Chef and storyteller Martha Hall Foose to speak and lead cooking demonstration
FEBRUARY 24, 2012
by Tina Underwood, Media Relations
GREENVILLE, S.C.—edible Upcountry magazine and Furman University's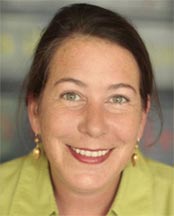 David E. Shi Center for Sustainability will sponsor an evening of flavor, food and storytelling by noted chef Martha Hall Foose on Thursday, March 1 at 6 p.m. at the Hartness Pavilion on the Furman campus.
The event is free and open to the public, but seating is limited so reservations are required. The program features a book-signing (with books available onsite for sale), discussion, cooking demonstration and a taste of Foose's famed recipes.
Foose is the James Beard Award-winning author of the bestselling cookbook Screen Doors and Sweet Tea. Born and raised in Mississippi, Foose attended France's renowned pastry school École Lenôtre. She returned to Mississippi and opened Bottletree Bakery – a southern institution in Oxford, Miss. – and later opened Mockingbird Bakery in Greenwood, Miss. with her husband. Former executive chef of the Viking Cooking School, Foose was a food stylist for the movie, The Help, based on the bestselling novel.
The event marks the start of a month-long series of activities associated with edible Upcountry's Food Arts Month, a campaign to reconnect people of the Upstate to their kitchens and kitchen tables, and to encourage the preservation and practice of classic food techniques for the home cook.
To reserve free tickets online, go to http://marthahallfoose.eventbrite.com/. For more information about the event, contact Samantha Wallace at edible Upcountry, sam@edibleupcountry.com, or 864-395-9250.
Reservations for Furman students, faculty and staff are available through Katherine Kransteuber at the Shi Center for Sustainability, 864-294-2517, or katherine.kransteuber@furman.edu.
Contact Us
Clinton Colmenares
News & Media Relations Director