Now playing at Furman Theatre: "The 25th Annual Putnam County Spelling Bee"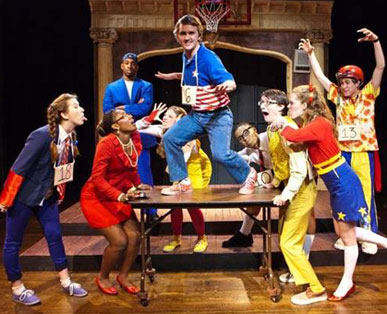 OCTOBER 25, 2011
by Katie Love, Media Relations Assistant
GREENVILLE, S.C.—The Furman University Theatre will present the Tony Award-winning musical, "The 25th Annual Putnam County Spelling Bee," Oct. 26-30 and Nov. 2-6 at the Playhouse on Furman University's campus.
All performances begin at 8 p.m. with the exception of a 3 p.m. matinee on Sunday, Oct. 30 and Sunday, Nov. 6.
Tickets are $20 for general admission, $17 for seniors, $14 for Furman faculty and staff, and $10 for students.  Parental guidance is suggested.
Spelling Bee, with music and lyrics by William Finn and book by Rachel Sheinkin, is a musical comedy that follows several quirky, tween, spelling bee contestants as they battle for victory. While the musical celebrates (and makes fun of) their desire to succeed, this charmingly awkward group of overachievers eventually learns that winning is not everything.
The main characters are spelling bee contestants and supervisors played by returning theatre faces—Ardarius Blakely, Caroline Davis, Stephen Howard, Tyler Mitchell and Grace Pernardo, as well as newcomers Tierney Breedlove, Kate Gard, Preston Grover and Daniel Hoilett.
Several Furman celebrities, including president Rod Smolla, will also make cameo appearances as "volunteer" spellers from the audience.
Furman theatre arts professor Maegan Azar is the play's director, while Marion Sprott is musical director.  Furman music professors Bruce and Gail Schoonmaker serve as voice coaches.   Rhett Bryson, Maranda DeBusk, and Lauren Hein designed the set, lights and costumes, respectively.
For ticket information and reservations, call the Theatre Box Office at 864-294-2125.
Contact Us
Clinton Colmenares
News & Media Relations Director