Furman graduate Tomiko Brown-Nagin awarded 2012 Bancroft Prize for book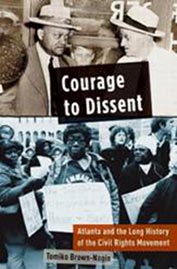 MARCH 15, 2012
by Media Relations
GREENVILLE, S.C.—Tomiko Brown-Nagin, a 1992 Furman University graduate who teaches law and history at the University of Virginia, has been awarded the 2012 Bancroft Prize by Columbia University for her book, Courage to Dissent: Atlanta and the Long History of the Civil Rights Movement.
Brown-Nagin is one of three authors to receive this year's Bancroft Prize, one of the most distinguished academic awards in the field of history.  Courage to Dissent was published by Oxford University in 2011.  The other winners are Anne F. Hyde, Empires, Nations, and Families: A History of the North American West, 1800–1860 (University of Nebraska Press, 2011); and Daniel T. Rodgers, Age of Fracture (Belknap Press of Harvard University Press, 2011).
Columbia Provost John H. Coatsworth will present the awards at the Bancroft Prize dinner next month, hosted by the Columbia Department of History and Columbia University Libraries. The Bancroft Prize includes an award of $10,000 to each author.
Brown-Nagin is the T. Munford Boyd Professor of Law, Justice Thurgood Marshall Distinguished Professor of Law and professor of history at the University of Virginia.  A history major at Furman, she holds a doctorate in history from Duke University and a law degree from Yale Law School, where she served as an editor of the Yale Law Journal.  She is a native of Troy and graduated from Greenwood High School.
Brown-Nagin teaches courses on American social and legal history, constitutional law, education law and policy, and public interest law. She has written widely on civil rights history and law, and published in both law and history journals. She was the Charles Warren Visiting Professor of American Legal History at Harvard Law School in fall 2008.
Contact Us
Clinton Colmenares
News & Media Relations Director