Art by Daniel Marinelli on display at Furman August 30 through September 29
AUGUST 22, 2012
by Tina Underwood, Contributing Writer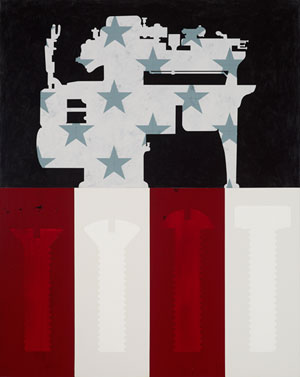 GREENVILLE, S.C.—Art by Daniel Marinelli will be on display Aug. 30 through Sept. 29 at Thompson Gallery in the Roe Art Building on the Furman campus. Thompson Gallery hours are 9 a.m.–5 p.m., Monday through Friday.
"Instruments" is an exhibition featuring drawings, paintings and sculpture. For his sculptural work, Marinelli alters, combines and presents common, everyday materials (wood, steel, paper, thread, paint) into a format that evokes a sense of familiarity, either to the materials themselves or to the alluded content.
Drawn to the idea that art is a metaphor, Marinelli echoes Martin Puryear's "value of the referential quality of art, the fact that a work can allude to things or states of being without in any way representing them."
Marinelli's more recent works include drawings and paintings of a variety of tools, devices, and hardware. He says the subject matter in these works could easily be labeled as mundane, but to Marinelli, the objects are of utmost importance as they play an integral part in creating his sculptures.
Marinelli has recently completed a three-year residency at Penland School of Crafts in Penland, N.C. He has relocated with his wife and children to the Greenville area and is setting up his shop and studio in the Old Southern Bleachery in Taylors, S.C., where he continues to explore and utilize wood, steel, paper, and paint in his two- and three-dimensional pieces.
For more information about the exhibition, contact Frances Ashley in Furman's art department, 864-294-2074, or visit www.danielmarinelli.com.
Contact Us
Clinton Colmenares
News & Media Relations Director