Thomas publishes book about SF genre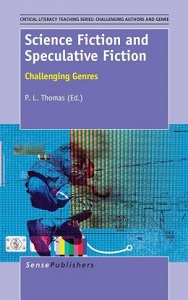 Furman University education professor Paul Thomas has published another book in the series titled Critical Literacy Teaching Series: Challenging Authors and Genres (P.L. Thomas, Ed.).
The third book in the series, Science Fiction and Speculative Fiction: Challenging Genres is published by Sense Publishers. Thomas authored the first book in the series, Challenging Genres: Comics and Graphic Novels, published by Sense in 2010.
In Science Fiction and Speculative Fiction, Thomas explores the broad category of SF as a genre that challenges readers, viewers, teachers, and scholars, and then as one that is often itself challenged. The collected chapters include work from teachers, scholars, artists, and a wide range of SF fans. It offers a unique blend of voices to scholarship about SF as well as examinations of the place for SF in the classroom.
Among the authors contributing chapters are Furman faculty members Aaron Passell (sociology), Michael Svec (education), Mike Winiski (associate director for Furman's Center for Teaching and Learning), and Thomas.
Before joining the Furman faculty in 2002, Thomas taught high school English in rural South Carolina. He earned undergraduate, master's and doctoral degrees in education from the University of South Carolina.
He is a column editor for the English Journal, a publication of the National Council of Teachers of English. He has written commentaries for the Washington Post, The New York Times, The Guardian, Education Week, The State, and The Greenville News.
Additional recent books include De-Testing and De-Grading Schools, a collection of essays co-edited by Thomas and Canadian educator Joe Bower (Peter Lang USA, 2013), Ignoring Poverty in the U.S.: The Corporate Takeover of Public Education (Information Age Publishing, 2012) and Becoming and Being a Teacher: Confronting Traditional Norms to Create New Democratic Realities (Peter Lang USA, 2013), editor.
More information about Science Fiction and Speculative Fiction: Challenging Genres may be found here. Or contact Furman's News and Media Relations office at 864-294-3107.
Contact Us
Clinton Colmenares
News & Media Relations Director