Riley announces winner of education award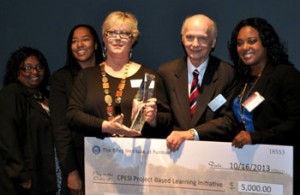 The Riley Institute at Furman and South Carolina Future Minds have announced the winner of the 2013 Dick and Tunky Riley WhatWorksSCsm Award for Excellence.
The award, which highlights innovative educational initiatives throughout the state, was presented to Chester Park Elementary School of Inquiry (CPESI) Project-based Learning Initiative. It was presented during the WhatWorksSC awards luncheon held Oct. 16 in Columbia in conjunction with the South Carolina Future Minds' annual Public Education Partners meeting.
CPESI's Project-based Learning Initiative was selected from among two other finalists: Parents as Teachers SC, South Carolina First Steps; and Teacher Cadet Program, Center for Educator Recruitment, Retention and Advancement (CERRA), both programs serving students statewide.
CPESI, a Professional Development School in partnership with Winthrop University, is a Title I school where 90 percent of the 435 students receive free or reduced lunch.  Despite that, in the first year of its project-based learning initiative, CPESI's first and second grade classrooms saw significant growth in student learning averaging 84 percent.
Candidates for the award were selected from more than 80 entries in the Riley Institute's WhatWorksSC clearinghouse. The WhatWorksSC clearinghouse showcases initiatives that explore and exemplify key strategies for improving South Carolina's public schools.
The award was presented in conjunction with the South Carolina Chamber of Commerce, and was sponsored by Childs and Halligan, P.A., the South Carolina Education Oversight Committee, the South Carolina School Boards Association, the South Carolina State Board of Education, and the South Carolina Association of School Administrators.
For more information about the WhatWorksSC Award, contact the Riley Institute at 864-294-3546 or email Scott.mcpherson@furman.edu.  For more information about the South Carolina Conference of Public Education Partners, visit www.scfutureminds.org. Information about the Riley Institute's WhatWorksSCsm clearinghouse can be found here.
Contact Us
Clinton Colmenares
News & Media Relations Director