A moving experience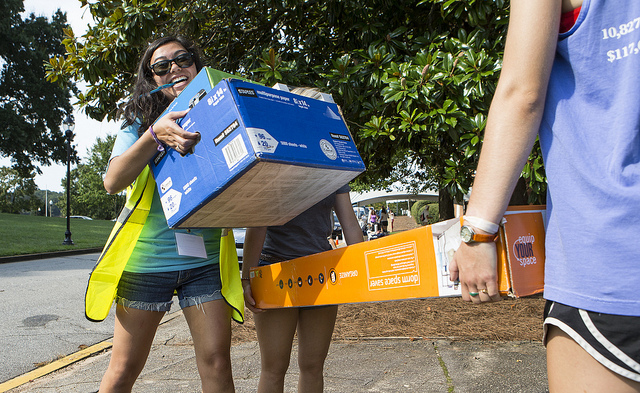 A motorcade of bulging cars and vans snaking through campus, laundry baskets filled to overflowing, a veritable mountain range of clothing, shoes and bedding, a steady parade of lamps, wall art, memo boards and other dorm room trappings, residence halls teeming with new students and parents from near and far.
It must be move-in day – the official start of O-week at Furman, and quite possibly one of the most important cogs in the O-week wheel as students begin new lives away from home. Ron Thompson, director of Housing and Residence Life, understands the range of emotions and questions that swirl like clouds in a gathering storm – Will I like my roommate? How quickly will I make friends? How will I get my stuff moved in? Where do I eat? How do I get on the network?
So who needs move-in woes when the leap from home to campus living is stressful enough?
A smooth and virtually worry-free move-in day doesn't happen by accident says Thompson. "Our residence life team spends considerable time discussing move-in day, the logistics involved as well as the emotional elements that go along with it. We use a lot of positive energy to counter the myriad emotions and difficulties students and families will be managing.
One of the secrets to our move-in process is our decentralized approach. Unlike many other schools, we don't funnel students through a single check-in point, but rather allow them to check in on their floor with their residence hall staff."
Thompson says this process quickly connects new students with their Resident Assistant (RA) and First-Year Advisors (FRADs).
After check-in, a barrage of volunteers stood ready to unload the nearly 800 fledgling Paladins. Even Furman Interim President Carl Kohrt entered the fray. At times during Friday's move-in it appeared volunteers outnumbered new students.
The move-in plan even extended to managing debris as members of the Environmental Action Group staffed cardboard recycling areas.
Thompson added that custodial staff play an vital role by preparing every student room and apartment for occupancy in just a couple of short weeks. "Without all their work, we couldn't have had the success we saw on Friday," he says.
Zack Holland (Charolotte, N.C.) says, "So far, it's been an easy transition." Parents, Jennifer and Kevin Holland also appreciated the convenience of the process. "We were able to drive right up and drop things off at the front door. That was very nice," says Mrs. Holland.
While Alex Lange (Nelson, N.H.) busied himself unpacking, his mother, Michelle Lange, says she was impressed with the level of communication from Furman including emails, move-in packet, and a clear schedule.
Mia Hinkebein (Louisville, Ky.) and parents Anne and William also give high marks to the move-in effort. From the time Mia and her parents pulled up to the drop-off zone, she had everything in her room in about 15 minutes. Says William Hinkebein, "We've put students in at University of Richmond and St. Louis University, and I've got to tell you this seems a bit more organized. These kids hauled everything up before I could even park the car and walk back – that was stunning! I didn't get a chance to tip them!" he jokes.
Nathan Mathai (Dallas, Texas) arrived early Friday for move-in, so his room was already set up and adorned with a Lone Star State flag by late morning. Mathai, who's looking forward to studying political science and business at Furman, reports his only move-in problem was not bringing enough hangers.
Overall, Thompson says he is thrilled with how Friday move-in unfolded. "I'm very proud of our parents and families, as well as our new students," he says. "There's a lot of emotion and stress present on move-in day, and we saw them managing it very well all day."
Contact Us
Clinton Colmenares
News & Media Relations Director