Furman's football program ranks fifth nationally in Graduation Success Rate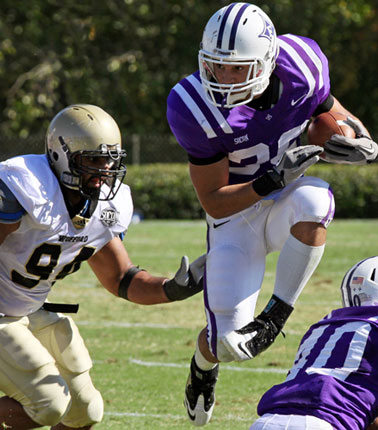 OCTOBER 27, 2011
by Furman Sports Information
GREENVILLE, S.C.–Furman University's football program ranks fifth nationally in Graduation Success Rate (GSR) among all Division I institutions, according to the figures released this week by the NCAA.
For all football participants who enrolled at the university from 2001-04, Furman's 98 percent GSR trailed only the Ivy League's Brown, Columbia, Dartmouth, and Penn — each of which scored 100. The remainder of the NCAA Division I Top 10 includes Notre Dame (97), Colgate (97), Yale (97), Davidson (97), and Harvard (96). Other notables include Northwestern (94), Duke (93), Rice (93), and Vanderbilt (87).
Furman football's national GSR highlighted a strong overall report for the university's 18-sport intercollegiate athletics program, which scored a GSR of 95, including seven sports with perfect marks of 100.
The overall GSR for all NCAA Division I sports is 80 percent for student-athletes who enrolled over the four-year period of 2001-04.
Furman sports achieving perfect GSR scores of 100 include men's cross country/track & field, men's golf, women's basketball, women's cross country/track & field, women's soccer, women's tennis, and volleyball.
The NCAA developed the Graduation Success Rate to more accurately assess the academic success of student-athletes. The rate holds institutions accountable for transfer students, includes mid-year enrollees, and is calculated for every sport.Under the calculation, institutions are not penalized for outgoing transfer students who leave in good academic standing. The outgoing transfers are included in the receiving institution's GSR cohort.
The most recent Division I Graduation Success Rates are based on the four entering classes from 2001-2002 through 2004-05. Nearly 105,000 student-athletes are included in the most recent four classes using the GSR methodology. The NCAA began compiling these figures with the entering freshmen class of 1995.
Contact Us
Clinton Colmenares
News & Media Relations Director