Furman announces Dean's List for fall 2011; complete list of names available online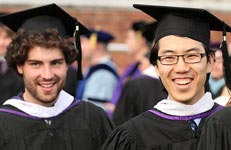 DECEMBER 20 , 2011
by Vince Moore, Media Relations Director
Furman University has posted the names of the students who were named to the Dean's List for the 2011 fall term.
The honor is awarded to full-time undergraduates who earn a grade point average of at least 3.4 during the university's fall and spring semesters.  The students are listed alphabetically by state on the website.
For more information, contact Academic Records at 864-294-2030.
Contact Us
Clinton Colmenares
News & Media Relations Director