Opening concert of the Furman Symphony Orchestra to be performed Oct. 19
OCTOBER 10, 2012
by Tina Underwood, Contributing Writer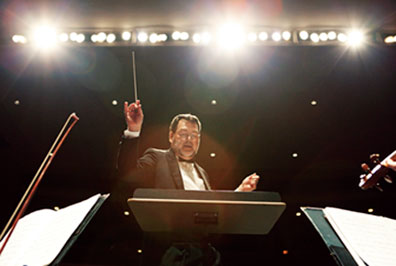 The Furman Symphony Orchestra will perform its opening concert for the Sound Quality Concert Series on Friday, Oct. 19 at 8 p.m. in McAlister Auditorium on campus.
The concert, "The Apotheosis of the Dance," is open to the public and features works by Beethoven and Bernstein. Tickets are $12 for adults, $10 for seniors and $5 for students. The concert is part of Furman's Cultural Life Program, and is an official Homecoming weekend event.
FSO conductor Thomas Joiner leads the 75-student member orchestra in Beethoven's "Symphony No. 7," described by Wagner as "the apotheosis of the dance." Soliloquies and excerpts from Shakespeare's play, "Romeo and Juliet" serve as the backdrop for Leonard Bernstein's "Symphonic Dances from West Side Story." Furman voice professor Bruce Schoonmaker offers Shakespeare.
Joiner has appeared as a conductor, violinist, chamber player and teacher throughout the United States and eleven foreign countries. As professor of violin and orchestral activities at Furman, he conducts the FSO in orchestral, operatic, and oratorio performances each year. He is music director and conductor of the Hendersonville Symphony Orchestra (N.C.). For 31 seasons he was an artist-faculty member of the Brevard Music Center (N.C.), and held the Dr. and Mrs. William J. Pendergrast, Sr. Artist Chair, serving as a concertmaster of the Brevard Music Festival Orchestra. He was honored in 2009 with the Distinguished Alumni Award.
Joiner holds a doctorate in violin performance from Florida State University, a master's of church music (musicology) from Southern Baptist Theological Seminary, and a bachelor's (music performance) from Furman University.
For more information about the event, contact the Furman University Music Department at 864-294-2086, or FurmanMusic@furman.edu.
Contact Us
Clinton Colmenares
News & Media Relations Director