Furman Singers to perform March 12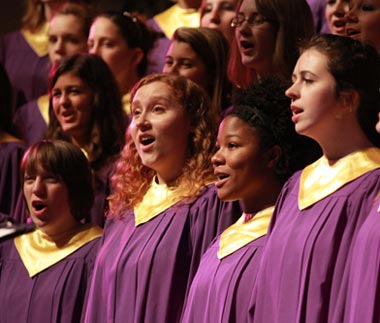 The Furman University Singers will complete their annual spring tour with a concert on campus Tuesday, March 12 at 8 p.m. in McAlister Auditorium.
The performance is open to the public, and is part of Furman's Cultural Life Program. Tickets are $5 for adults and $3 for students.
The concert is conducted by Hugh Ferguson Floyd, Furman's coordinator of choral ensembles and director of the renowned Furman Singers. Furman organist and music professor Charles Tompkins will serve as accompanist.
The 70-member Singers continue a tradition of performance that is more than 65 years old. Part of a five-city tour from Washington D.C. to Charleston, the Singers will present music ranging from the early Baroque period to a selection composed as recently as last year. The choir will perform standards of choral literature by Schütz, Brahms, Poulenc, Hogan and Vaughan Williams. Two student conductors will also lead selections they prepared with the choir.
Floyd is the first recipient of the Bingham L. Vick, Jr. and Judith S. Vick Professorship of Music. He has been a guest lecturer at the Eastman School of Music and Yale University. He recently made his conducting debut at Carnegie Hall in New York City, taught conducting and music history in Arezzo, Italy, and toured Austria and the Czech Republic with the Furman Singers. Prior to joining the Furman faculty, Floyd was director of choral studies at the Oberlin College Conservatory of Music and conductor of the Akron Symphony Chorus. Floyd is a graduate of Furman University, the Eastman School of Music, and the University of Michigan.
Tompkins teaches organ, music theory and church music and is coordinator of keyboard studies. He also serves as organist of First Baptist Church in Greenville. An active recitalist and clinician, Tompkins performs each year at churches and universities throughout the United States, and has presented recitals at the Kennedy Center, the Piccolo Spoleto Music Festival and other venues. In 2011, he presented a series of programs in France and Switzerland, including a recital at the Cathedral of Notre Dame in Paris. Tompkins holds a doctorate and bachelor's from the Eastman School of Music, and a master's from the University of Michigan.
For more information about the concert, call the Furman Music Office at 864-294-2086.
Contact Us
Clinton Colmenares
News & Media Relations Director