New program helps international students adjust to life in U.S.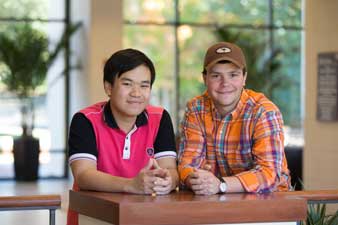 Viet Le '17 set foot on Furman's campus for the first time in August, carrying nothing but two suitcases and a backpack. He made the 8,500-mile journey from Hanoi, Vietnam, bringing only clothes, his favorite noodles, coffee, tea and traditional handicrafts to give as gifts.
Le's college search had been done entirely online, using information from U.S. News and World Reports college rankings and recommendations from his high school counselor. Other than photos he'd seen of Furman's campus, he had no idea what to expect.
So far, everything has exceeded Le's expectations. He credits much of his successful college start to his new friend and "personal adviser," Jake Saine '16, who has done everything from recommending student organizations for Le, to helping him select a new Samsung Galaxy cellphone, part of a Family Plan he shares with four other Vietnamese students.
"Jake has helped me to get on well with the life here," Le said.  "He explains American culture to me and whenever I have troubles, I know that I have someone to rely on."
Le and Saine are among the first group of students sharing in the International Connection program, launched at Furman this fall through The David and Leighan Rinker Center for Study Away and International Education.
With numbers of international students on campus increasing, Furman wanted to offer a unique way to get adjusted to life in the United States.
"We not only want our international students to feel welcomed, but we want them to feel they belong here at Furman," said Chrissy McCrary, International Student Advisor and Study Away Coordinator. "We want them to have people on campus who are 'for them.'"
Furman currently has 108 international students from 33 countries. Thirty-five of those students are freshmen, from countries including China, Ghana, India, Malaysia, Mongolia, Pakistan, Rwanda and Zambia.
As part of the program, a new international student was paired with an upperclassman, known as their liaison. They began communicating via Facebook and Twitter over the summer. When new students arrived on campus in August for orientation, their liaisons were there to greet them.
"I had lots of questions about what to expect as a college student. How much work should I expect academically? How do I thrive through it all? What are the people like?"  said Brooks Musangu, '17, a native of Zambia.
After being paired with Dougie Warstler '14, a computer science and math major, Musangu said his fears quickly faded away. "Dougie has made my transition to Furman very smooth. He has been very helpful in almost everything I need. And to make it even better, he tutors me in math."
Musangu said he has been able to enjoy three hiking and rock climbing trips so far, and has been able to try several new favorite foods, fresh vegetable soup and sweet tea.
Contact Us
Clinton Colmenares
News & Media Relations Director