Ambassador Malac settling into new position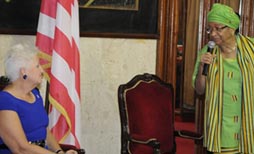 Furman alum Deborah Malac, a career member of the Senior Foreign Service who has served with the Department of State since 1981, is settling into her new position as U.S. Ambassador to Liberia.  She was nominated by President Obama on May 9 and her nomination was confirmed by the U.S. Senate on July 26. FrontPageAFrica reported on the newest U.S. Ambassador to Liberia and her hopes for the nation.
Malac holds a B.A. in International Studies (magna cum laude, Phi Beta Kappa) from Furman (1977), a M.A. in Foreign Affairs from the University of Virginia (1981), and a M.S. in National Resources Strategy (Distinguished Graduate) from the National Defense University (2002).  She also spent a year studying International Law at the University of Basel on a post-graduate fellowship under the auspices of the Fulbright Foundation.
Contact Us
Clinton Colmenares
News & Media Relations Director