"Once Upon a Mattress" opens tonight in McAlister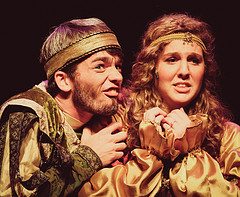 NOVEMBER 10, 2011
By Sara Morano '14, Contributing Writer
A fairy tale is always more fun when it's fractured, or at least that's the case for the Pauper Players' production of Mary Rodgers' Once Upon a Mattress.
The popular musical comedy is an adaptation of the classic Hans Christian Anderson fairy tale, "The Princess and the Pea." As a serenading minstrel at the start of the show promises, though, the play tells the true story, full of the plot twists and vibrant characters that the first version missed.
The Pauper Players and their 17-member orchestra give special care to bring all the fun-filled fractures of Rodgers' music to life on the McAlister stage. There's a "damsel in distress" (tomboy Princess Winifred, played by Christina Jimenez), who must pass the impossible test of sensitivity set by the loquacious Queen Aggravin (Jordan Hankins) so that she can marry the Prince (Ben Keiper), a hopeless mama's boy.
Complicating the central story of the princess are a colorful court — knights, ladies-in-waiting, bishops, jesters and a wizard — all of whom perform jazzy ensemble dance numbers and strike off solo to share their stories throughout the show, which runs two and a half hours.
The numbers are both funny and, at times, affecting, as the story follows two romances within the royal court.
The humorous and heart-warming unfold seamlessly as the players move along an efficient stage of stately castle walls and silky tents and use medieval props, the most impressive of which are the 20 mattresses the Princess must sleep on for her test.
The coordination between the 25-member cast and ensemble, their small orchestra (with a delightful brass section), and attentive crew makes for a spellbinding fairy tale punctuated with a lot of laughter.
The production will run this weekend, November 10, 11, and 12. Doors open at 7 p.m. and tickets will be sold at the window: $5 for students, $8 for seniors and children, and $10 for the general public. The event holds Cultural Life Program credit for students. Proceeds from the show will go to the Triune Mercy Center, a local nonprofit ministering to the homeless.
Contact Us
Clinton Colmenares
News & Media Relations Director