Furman's chapter of Sigma Alpha Iota wins national achievement award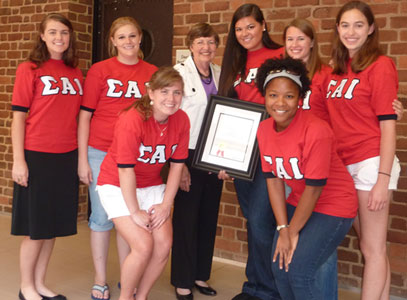 Furman's Theta Lambda Chapter of the music fraternity, Sigma Alpha Iota, has been recognized as the outstanding chapter for the 2010-11 academic year.
The Katherine Becker National Collegiate Chapter Achievement Award is given annually to a chapter whose officers and members have achieved distinction in several areas.  The chapter must fulfill National Objectives and complete all local and national obligations.
Theta Lambda has a tradition of service and many chapter activities reflect that commitment.  The sisters regularly serve as ushers for music department events.  They also organize receptions for guest artists.  Many required solo recitals include a reception hosted by Theta Lambda.  The chapter also presents an annual scholarship, the Saint Cecilia Scholarship, to an outstanding underclass music major.
During this past year the chapter organized a 5K walk – The Beat Brahms Walk.  The proceeds were donated to VHS-1's Save the Music campaign.  For several years the chapter has also organized a benefit event for ASTEP – Artists Striving to End Poverty.  The chapter also makes an annual contribution to SAI Philanthropies, Inc.  All together Theta Lambda contributed over $2,500 to these causes.
Theta Lambda also works in the community, supporting the Girl Scouts and visiting residents of local nursing homes.  The chapter was host for the annual Province Day attended by sisters from Appalachian State, Western Carolina, University of North Carolina at Greensboro, and Mars Hill College.
Theta Lambda was selected first as the province candidate and then as the southeast region candidate.  This summer the fraternity's National Executive Board reviewed all the regional candidates and chose Theta Lambda to be the recipient.
The National President congratulated Theta Lambda saying, "You have worked hard to fulfill the SAI National Objectives, support SAI Philanthropies, music education, and activities on your campus, and we pleased to present this to you in recognition of that work.  May you continue to be an exemplary chapter of SAI."
Contact Us
Clinton Colmenares
News & Media Relations Director