Three-game win streak pushes Paladins into Top 25 Sports Network/Fathead rankings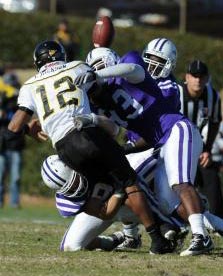 NOVEMBER 7, 2011
by Sports Information
GREENVILLE, S.C.—Riding the crest of a three-game winning streak, including victories over a pair of Top 5-ranked Southern Conference foes, the Furman Paladins have climbed into this week's Sports Network/Fathead.com at No. 17, it was announced today.
Furman, which defeated previously third-ranked Appalachian State, 20-10, on Saturday at Paladin Stadium, is among four SoCon teams appearing in this week's poll, which includes No. 4 Georgia Southern, No. 9 Wofford, and No. 10 Appalachian State. The Paladins trimmed Wofford, ranked No. 4 at the time, 26-21, in Greenville on Oct. 22.
The ranking is the first for Furman (6-3, 5-2 SoCon) in over a year, with the Paladins having last appeared in the Top 25 in October of 2010.
Furman's recent string of impressive wins also finally registered with FCS Coaches Poll voters, who moved the Paladins from the unranked list to 21st in their weekly worksheet.
The Paladins have been ranked in the Gridiron Power Index (GPI) for the last four weeks, holding the No. 15 slot last week prior to its game with Appalachian State.  This week's GPI will be released later today.
Furman entertains Elon this Saturday at Paladin Stadium in a 1:30 p.m. game.
Rk., Team (1st Place Votes), Record, Points, Previous
1. North Dakota State (143) 9-0 4,004 1
2. Montana State (16) 9-1 3,847 2
3. Sam Houston State (1) 9-0 3,673 4
4. Georgia Southern 8-1 3,425 5
5. Northern Iowa 7-2 3,309 6
6. Lehigh 8-1 3,131 8
7. New Hampshire (1) 7-2 2,957 9
8. Montana 8-2 2,785 10
9. Wofford 7-2 2,718 11
10. Appalachian State 6-3 2,572 3
11. Old Dominion 8-2 2,401 12
12. Towson 7-2 2,350 14
13. Maine 7-2 2,070 7
14. Illinois State 7-3 1,665 17
15. Delaware 5-4 1,342 16
16. Liberty 7-3 1,258 22
17. Furman 6-3 1,246 NR
18. Harvard 7-1 1,090 23
19. Central Arkansas 7-3 1,048 25
20. James Madison 5-4 895 13
21. Jackson State 7-2 525 15
22. Norfolk State 8-2 468 NR
23. Alabama State 7-2 438 NR
24. South Dakota 5-4 437 24
25. Eastern Kentucky 6-3 427 NR
Contact Us
Clinton Colmenares
News & Media Relations Director