Men's soccer turns PINK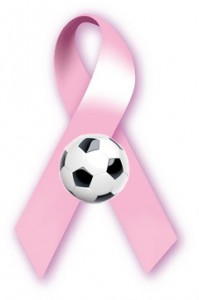 Nationally ranked Furman University men's soccer is out for more than just another win this Saturday. The men's soccer team has designated the Oct. 19 matchup against  Southern Conference rival Elon University as its first ever PINK match in honor of Breast Cancer Awareness Month.
"We are so excited about the PINK match, about doing something bigger than soccer. Our Furman family and local community has really rallied behind us to help make this match a success on and off the field," said head coach Doug Allison. "We've had a great season so far, but it's important for us as a program to take a step back and recognize this disease and how it is affecting those around us," stated Allison.
The National Cancer Institute states that one out of every eight women is affected by breast cancer at some point in her life. Together with the American Cancer Society and a local Furman student group, FU Cancer, the men's soccer program is turning the night's attention to raising awareness about the disease.
The team will take the field in new pink uniforms and is encouraging all fans to join them in wearing pink to help continue the movement both on campus and around the country. Local community partners will be on hand to share prevention tips and facts about the disease and will have giveaways for fans.
While breast cancer is the most common cancer among American women, the American Cancer Society estimates there are more than 2.8 million breast cancer survivors in the United States.
"When you look at the national statistics and you count the heads in our locker room, you realize this disease has already gravely affected so many in our program. The players and our coaching staff feel it is our responsibility to see the 'bigger picture.' We want to use our nationally ranked program to help keep the conversation going and to make a positive impact as we pull together in the fight against cancer," said Allison.
Join the Paladins as they do their part to kick-out cancer at the PINK match as two nationally ranked teams, Furman University and Elon University, face off at Seagraves Field in Eugene Stone Soccer Stadium, Saturday, Oct. 19 at 7 p.m.
Contact Us
Clinton Colmenares
News & Media Relations Director