Family Weekend 2013 a wrap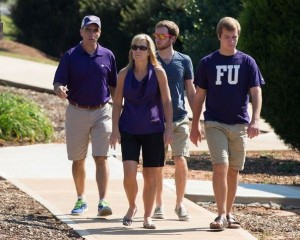 Only six weeks have passed since Furman families moved their freshmen and returning students to campus.  But when family members descend on campus for the annual Family Weekend festivities, they quickly see how Furman becomes a true home away from home.
This year was no different.
809 families registered for Family Weekend (October 4-6) and more than 2600 individuals returned to campus for a weekend filled with happy reunions, introductions to new friends, and a glimpse of campus life. "It is always rewarding to see multi-generational families enjoying campus together. It makes it all worthwhile," said Patty White, Family Weekend coordinator.
Highlights from the weekend included a ring ceremony for juniors and seniors, 30th annual talent showcase, a 5K fun run, a new Panhellenic-wide tailgate, and the football game versus Elon.
Elon defeated the Paladins 28-25, but Furman Rugby claimed a resounding win over the Phoenix, 49-0.
Family Weekend 2014 is set to take place September 26-28.
Contact Us
Clinton Colmenares
News & Media Relations Director