News from around the
lake and beyond
Furman News
Akerman-Teixeira Guitar Duo presents concert
OCTOBER 31, 2012
by Tina Underwood, Contributing Writer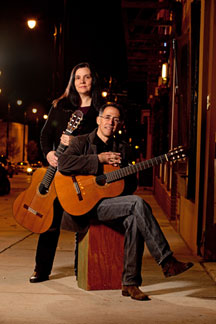 The Akerman-Teixeira Guitar Duo will present a concert Wednesday, Nov. 14 at 8 p.m. in Daniel Recital Hall on campus. The duo will also present a master class at 4 p.m. on Nov. 14 in Harper Hall of the Herring Music Pavilion on campus.
Sponsored by Partners in the Arts and the Carolina Classical Guitar Society, the concert and master class are free and open to the public.
The Akerman-Teixeira Guitar Duo will perform works from Spain to Turkey and France to Brazil with the music of Scarlatti, Albéniz, Debussy, Bonfá and more.
Mary Akerman teaches classical guitar at Kennesaw State University, in Kennesaw, Ga. She is a winner of the Guitar Foundation of America Competition and has served on the GFA board of trustees for more than ten years. She has performed, taught, and adjudicated at numerous colleges and regional festivals including the Columbus Guitar Symposium, the East Carolina University Summer Guitar Workshop, the San Antonio Guitar Festival, and the GFA Festival. In 2011, she performed in Turkey as part of a faculty exchange between Kennesaw State University and Cocaeli University in Hereke, Turkey.
Robert Teixeira lives in Charlotte, N.C. and is a guitar instructor at North Carolina institutions Davidson College, Queens University of Charlotte and Central Piedmont Community College. He has performed and recorded with his wife, cellist Tanja Bechtler, and with the world music chamber group Without Borders. His arrangements of the sambas from "Black Orpheus" by Bonfá are recorded on the Akerman-Teixeira Duo CD, and his publications of etudes and arrangements are available through Clear Note Publications.
Akerman and Teixeira met in graduate school at Florida State University and formed a duo about five years ago. They have recorded "Music For Two Guitars" which is available through Clear Note Publications or on the Naxos catalogue. The duo has performed regularly with chamber music programs, at colleges and universities, and in guitar festivals.
For more information about the event contact Steven Walter at 864-294-2275, or steven.walter@furman.edu, or contact the Furman University Music Department at 864-294-2086, or FurmanMusic@furman.edu.
Contact Us
Clinton Colmenares
News & Media Relations Director