News from around the
lake and beyond
Furman News
Sarah Weddington to speak at Furman Feb. 28 about landmark decision Roe v. Wade
FEBRUARY 24, 2012
by Tina Underwood, Media Relations
GREENVILLE, S.C.—Sarah Weddington will speak at Fur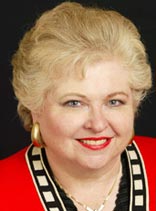 man University on Tuesday, Feb. 28 at 7 p.m. in Hartness Pavilion. Her talk will address the cultural, ethical, legal and political questions surrounding abortion. A reception will follow her presentation.
Her talk, "Historical Review of Roe v. Wade," is free and open to the public and is sponsored by Furman College Democrats. The talk is also part of Furman's Cultural Life Program events.
Weddington, at the age of 26, successfully argued the 1973 Roe v. Wade case before the U.S. Supreme Court, a decision which deemed abortion a fundamental right under the United States Constitution. It is widely held that she is the youngest attorney ever to win a U.S. Supreme Court case.
She is a nationally known attorney and spokesperson on leadership and public issues. In 1973, Weddington became the first woman from Austin to serve in the 150-member Texas House of Representatives, serving for three terms. In 1977, she was the first woman to become General Counsel of the U.S. Department of Agriculture. From 1978 to 1981, she served as Assistant to President Jimmy Carter, directing the administration's work on women's issues and leadership outreach.
Weddington is an adjunct professor at the University of Texas at Austin where she teaches "Gender-Based Discrimination" and "Leadership in America." She is founder of Weddington Center, the base for her professional activities.
She received her J.D. from the University of Texas School of Law, and is a Distinguished Alumna of McMurry University.
Weddington will sign copies of her first book, A Question of Choice, at the event. A limited quantity will be available for sale ($20, cash only) during the program.
For more information about the lecture, contact Ben Saul at ben.saul@furman.edu or (864) 980-9942.
Contact Us
Clinton Colmenares
News & Media Relations Director