Purple pride in the sunshine state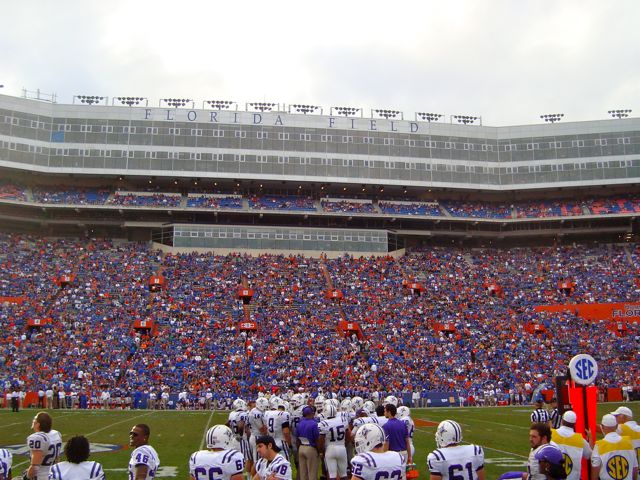 NOVEMBER 22, 2011
By Chloe Kowalski '12, Contributing Writer
The majority of the 84,674 fans clad in orange and blue were unsettled Saturday watching Furman offer play after play of surprisingly good football.
Going nose to nose against Southeastern Conference power Florida, the Paladins constructed a 22-7 second quarter lead.
Jerodis Williams scored the first touchdown for Furman on a one-yard run, prompting the team's cheering section to go wild. Purple pompoms punched the air and cries of "F-U aaaaalll the time!" rang out in a happy chorus.
Quarterback Chris Forcier pulled surprise plays out of his sleeve, which led to more touchdowns for Furman and more groans from Florida.
While the Paladins did not give up, several long touchdown bombs, a 55-yard field goal, and two interception returns for scores eventually sealed the game's fate in the fourth quarter. Despite the 54-32 loss, though, no one could deny Furman's effort. The contest was much closer than anyone expected.
But the game was not the only highlight of the week.
As the Paladins were preparing to face the Gators, admission counselors, members of the development staff, and President Smolla were executing their game plan. During the days leading up to the big game, the group criss-crossed the state to connect with alumni, prospective students and friends of the university.
In all, Furman hosted 16 events over six days, including five alumni/parent receptions, four classroom presentations, and a guidance counselor luncheon.
About 160 Furman students made the nine-hour trip to Gainesville, 110 on charter buses. And more than 550 people took part in a pre-game Furman tailgate.
Months ago, university staff began crafting a plan to capitalize on the publicity generated by the game to educate Floridians about Furman. As the final whistle blew signaling the end of Saturday's contest, the Paladins headed home knowing they had put in a solid effort, both on and off the field.
Contact Us
Clinton Colmenares
News & Media Relations Director