News from around the
lake and beyond
Furman News
Furman computer science professor co-authors book about IT management
MAY 22, 2012
by Tina T. Underwood, Contributing Writer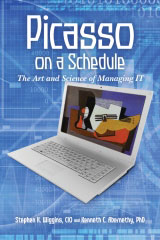 GREENVILLE, S.C.—Furman University computer science professor Kenneth Abernethy has co-authored a new book that explores the fundamental concepts of information technology (IT) management in a business environment.
Picasso on a Schedule: the Art and Science of Managing IT is co-written with Stephen K. Wiggins, chief information officer at BlueCross BlueShield of South Carolina.
The book is designed for IT managers and decision makers, and offers ideas and concepts gleaned from a10-year collaboration between the authors.  In the book, Wiggins and Abernethy draw from their experience creating professional development programs to support and enhance the Information Systems (I/S) Division of BlueCross BlueShield of South Carolina.
Abernethy is the Herman N. Hipp Professor of Computer Science at Furman and director of Furman's Institute for the Management of Information Technology.  He has authored or co-authored several textbooks and more than 60 professional articles in the field of computer science.
Wiggins is executive vice president and chief information officer of BlueCross BlueShield of South Carolina, where he oversees all corporate systems strategic planning, development, programming and enhancements.
Picasso on a Schedule is available online at Amazon.com and other channels. For more information about the book, contact Stephen K. Wiggins at steve.wiggins@bcbssc.com, or Ken Abernethy at ken.abernethy@furman.edu.
Contact Us
Clinton Colmenares
News & Media Relations Director