Furman welcomes new members to board
GREENVILLE, S.C.—The Furman University Board of Trustees welcomed five new members to the board during its fall meeting Saturday.
The new trustees are Ed Good of Greenville, Francie Heller of Greenwich, Conn., Gordon Herring of Greenville, Richard W. Riley of Greenville and Frank Shaw of Atlanta.  Riley and Shaw joined the board as trustee emeriti.
They began their terms July 1, and all have served previously as Furman trustees.
The bios for the trustees are below.
Ed Good is a 1967 graduate of Furman and holds a master's degree from the University of North Carolina at Chapel Hill.  He established the Hampton Development Company in 1985 and now serves as president.  He also has served Furman as chair of the Advisory Council and president of the Paladin Club.  He is currently a member of the board of the United Way of Greenville, The Alliance for Quality Education, Historic Greenville Foundation, and Hollingsworth Funds.
Francie Heller is the managing partner at Heller Advisory, an alternative asset placement agent.  Prior to that, she served as managing director at Houlihan Lokey and as senior managing director at Bear Stearns & Co., Inc.  She also served as an education director in public schools in New York State for 12 years.  A native of Greenville, she is a graduate of Boston University and earned a master's equivalent degree from the University of Georgia.
Gordon Herring graduated from Furman in 1965 and obtained a M.B.A. from the University of Virginia in 1970.  He joined the TeleCable Corporation in 1970 as director of research, and retired as executive vice president in 1989 upon the sale of the company.  A leader in the cable television industry, he is one of the founders of the Weather Channel.  He received an honorary degree from Furman in 1991, and has previously served as chair of the Furman board.  He chaired the Campaign Executive Committee for the Forever Furman Campaign, and serves on the board of the Hollingsworth Funds.
Richard Riley served as U. S. Secretary of Education under President Bill Clinton (1993-2001) and was elected to two terms as Governor of South Carolina (1979-1987).  He is a 1954 graduate of Furman, and formerly served as chair of the Furman Board of Trustees. He is distinguished professor at Furman, and serves as Advisory Board chair of the Richard W. Riley Institute of Government, Politics and Public Leadership.  In 2008, he was named one of the Top 10 Cabinet Members of the 20th century by Time magazine.
Frank Shaw graduated from Furman in 1961 with a degree in sociology. He also has a degree from Southeastern Baptist Seminary, and spent his early career as a minister at churches in South Carolina and Georgia.  He is owner and president of Shaw Executive Services, Inc., a long-term health care management company in Atlanta.  He and his wife, Susan, established a $1 million endowed scholarship at Furman— the Ernesteen B. and W. Victor Etheridge Scholarship—to honor Mrs. Shaw's parents.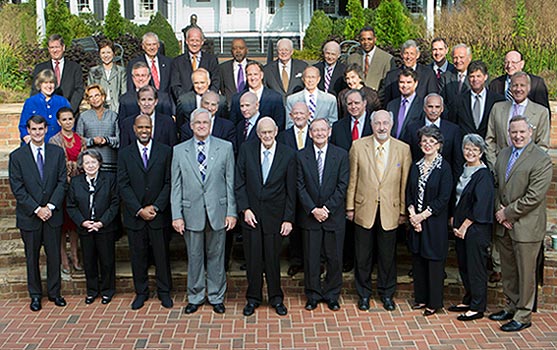 Contact Us
Clinton Colmenares
News & Media Relations Director