Furman to hold convocation Sept. 10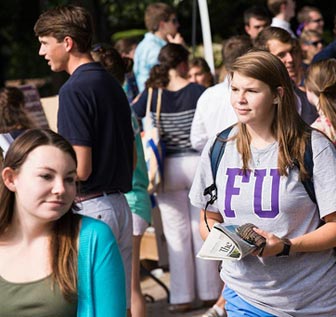 GREENVILLE, S.C.—Furman University's 2013-14 academic year will officially get underway with an opening convocation Tuesday, Sept. 10 at 10 a.m. in McAlister Auditorium.
Furman interim president Carl Kohrt will preside as the university welcomes the class of 2017 and presents a number of honors and awards.  Peter Wexler, a renowned New York theatre designer, producer, painter, sculptor and photographer, will deliver the convocation address.
Wexler will also receive an honorary Doctor of Humanities degree, and Stan Wilson, a 1986 Furman graduate who serves as pastor of Northside Baptist Church in Clinton, Miss., will receive the Richard Furman Baptist Heritage Award.
The university will also recognize the five members of the senior class who have been named Furman Fellows for the current academic year.  They are Bryan Betts of Tega Cay, S.C., Kristina Pardo of Weston, Fla., Elisabeth Schlaudt of Greenville, Carrie Seigler of Greenville, and Jacob Zimmerman of Clinton, S.C.
For more information, contact the Furman News and Media Relations office at 864-294-3107.
Contact Us
Clinton Colmenares
News & Media Relations Director