"Islam: In First Person:" World religions symposium to be held at Furman
OCTOBER 8, 2012
by Tina Underwood, Contributing Writer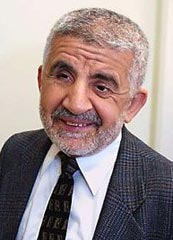 Furman University will hold its inaugural World Religions Symposium with the first of seven lectures and panel discussions beginning Tuesday, Oct. 16 at 7 p.m. in Daniel Chapel.
The symposium is free and open to the public, and the theme of this year's forum is "Islam: In First Person."
The first speaker for the symposium is Dr. Mahmoud Ayoub whose talk is titled, "A Muslim View of Christianity." As an expert in inter-religious dialogue, American society and institutions, and Islam in America, Ayoub has worked with the U.S. State Department since 1999 on diplomatic programs in the Middle East and Southeast Asia.
The World Religions Symposium aims to provide an outlet for envoys of various religious traditions to tell their own stories, regardless of how complex or challenging those stories may be.
The symposium was spurred by Furman's Muslim Student Association which garnered support from the Office of the Chaplains, the A.J. Head Fund, Shi Center for Sustainability, Lilly Center for Vocational Reflection, Furman's Office of Multicultural Affairs, Canterbury, Mere Christianity Forum, Presbyterian Student Association, Wesley Fellowship, College Democrats, College Republicans, and the political science, history, and religion departments.
A schedule of other lectures and panel discussions following Dr. Ayoub's talk follows:
Tuesday, Oct. 23, 7 p.m., McEachern Lecture Hall; "Children of Abraham," a panel discussion with Furman Rabbi Alana Wasserman, Furman Chaplain Vaughn CroweTipton, and Imam Bilal Malik from the Islamic Society of Greenville
Thursday, Nov. 1, 7 p.m., Daniel Chapel; "Islam, Sharia, and Democracy," Abdullahi an-Na'im (Emory Law and Emory College of Arts and Sciences)
Monday, Nov. 5, 7 p.m., Daniel Chapel; "The Islamic Worldview, Women's Rights and the Global Village," Azizah al-Hibri (Professor Emerita, University of Richmond School of Law)
Thursday, Nov. 8, 6 p.m., Patrick Lecture Hall; "Islam and Environmentalism," (Part of Sustainability Speaker Series); Eleanor Finnegan (Coastal Carolina University)
Monday, Nov. 12, 7 p.m., Johns Hall 101; "Women in Islam," a panel discussion with Muslim women in the Upstate with an introduction by Savita Nair, Furman associate professor of history and Asian studies
Thursday, Nov. 15, 7 p.m., Johns Hall 101; "Islam: A Personal Story," Imam Omar Shaheed (leader of Masjid as-Salaam, a mosque in Columbia)
For more information about the symposium, contact Maria Swearingen in the Office of the Chaplains at 864-294-2133, or maria.swearingen@furman.edu.
Contact Us
Clinton Colmenares
News & Media Relations Director