The problem of human trafficking
by Reagan Thompson '14, Contributing Writer
For many, human trafficking, slavery and bondage are the plague of a by-gone era.
But in many countries, these activities thrive. In fact, about 27 million people worldwide live a life of debt bondage, sex trafficking, or involuntary domestic servitude, which equates to a $37 billion-a-year industry.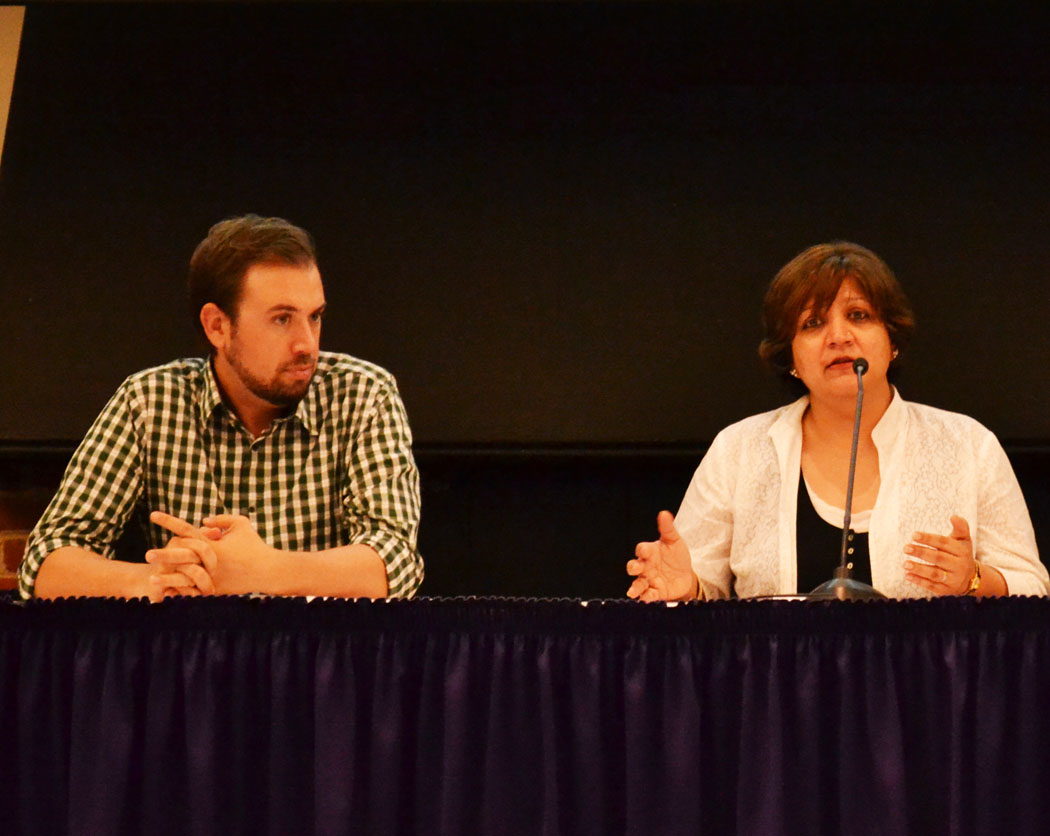 Furman's student-run Global Issues Forum (GIF) realizes the significance of this problem and has spent the last year raising awareness about this issue and others related to women and gender.
GIF's most recent effort—bringing a speaker from the awareness group Not for Sale to Furman last Tuesday—was supported in part by Furman's young alumni as part of the Young Alumni Council's micro-philanthropy projects.
Not For Sale seeks to "create a world where no one is for sale," according to Ethan Batstone, director of engagements for Not For Sale.  The group, he said, tries to stem the tide of human trafficking by creating "tools that engage business, government, and grassroots in order to . . . grow social enterprises to benefit enslaved and vulnerable communities."
Not For Sale's reach has extended into Uganda, South Africa, Romania, Thailand Cambodia, and Peru.  The group also operates country-specific campaigns, pushing for health care and education reform, as well as advocating for children.  Free to Work, the campaign's international labor rights board, scores and critiques companies on child labor usage and works to educate businesses on the consequences of using child labor.
After learning about Not For Sale's initiatives as well as the issue of enslaved communities, Furman students and others heard from a panel of professors and experts who gave interpretations from both a local and international perspective.
Veena Khandke, Asian Studies professor, and Julieta Barcaglioni-Heller, housing assistance program manager for Safe Harbor, a non-profit domestic violence prevention center in the Upstate, discussed the causes of human trafficking.
Khandke said environmental sustainability, poverty, deprivation, and migration play a large role in the prevalence of forced labor.  There are, she said, many social factors involved in trafficking as well, including, culture, gender and ethnicity.
"Dealing with these inequalities creates a sense of need and desperation that brings vulnerable people into the crosshairs of criminal networks . . . and trafficking," she said.
Students also learned about this issue on a local level.  Barcaglioni-Heller said she has seen three examples of human trafficking in Greenville since 2010. Most of these, she said, suffered from domestic violence and succumbed to the promises of a better life.
For more information about Not for Sale, visit the organization's website.
Contact Us
Clinton Colmenares
News & Media Relations Director