Spring Breakers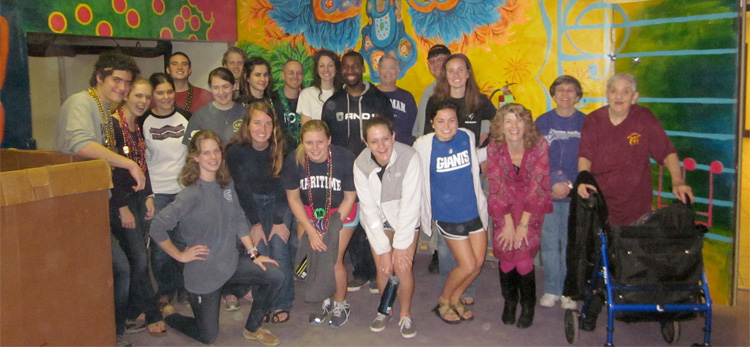 Lake Rabenold's patient had a cough, back pain, a mother dying of cancer, a husband in jail, and not enough money to feed her kids. To top it all off, Rabenold might have to tell the patient that she was also pre-diabetic.
"Her glucose levels were high so we asked her to come back the next day to get tested again," said Rabenold '14 (Lawrenceburg, Ind.). "Her life was falling apart, but when we told her she wasn't pre-diabetic, she was crying because it was one thing she wouldn't have to worry about."
Rabenold is a member of a student organization, Furman University Medical Mission Organization, that spends each spring break doing medical mission work in Latin America. The student group is part of a larger trend at Furman, where students use their spring break to visit and assist impoverished communities across the globe.
During these trips, students volunteer in the community and gain a new perspective on social issues throughout the world. In fact, service learning is an important aspect of the Furman experience. Heller Service Corps, the school's service organization, is one of the largest student organizations on campus. The school also earned a spot on the President's Higher Education Community Service Honor Roll in 2013.
Rabenold and nine other students spent their vacation time learning about medicine at Foundation Tepeyac-Nicaragua. Although the organization treats patients with limited access to medical care all year, the clinic is able to treat more people when college students visit for alternative spring breaks. After a day of orientation, the students worked in groups of three and, with the help of a translator, took patient vital signs and suggested diagnoses to the doctors overseeing the clinic.
"Going into it, I was worried about how I was going to know what diseases these people had," said Casey Wells '16 (Greensboro, N.C.) "But by the end of the trip, you learned a lot and knew what to look for. You could guess what was wrong based on their symptoms."
The students could choose the specialty they wanted to study during the trip: general medicine, pharmacy, or dentistry. Their work was always checked and overseen by doctors, but they were given a lot of responsibility and hands-on experience.
"I was able to shadow some dentists and oral surgeons before this trip," said James Gao '15 (Sugarland, Texas). "But what set this trip apart was I got to get up close with a lot of the patients and even do my own extraction."
The trip was about more than medicine for these students. It was about getting to know the country and it's people. On their days off, the students explored Granada, the oldest city in the Americas. They also swam in a laguna in an active volcano, and even made a Harlem shake video with the townspeople and students from North Carolina State University. The trip ended with a piñata party for local children.
"Everyone was dressed up in their best outfits and all the kids got candy," Rabenold said. "We went to their school yard and played soccer, red rover, and some other games with the kids. It was awesome."
Other students made the same impact closer to home.
Lindsay Eddy '16 and 11 other students from the Furman University Wesley Fellowship spent their break at Camp Restore in New Orleans, La. A short-term residential building, Camp Restore was created after Hurricane Katrina as a way of connecting volunteers to service projects in the community. The students slept and had their meals at Camp Restore, but spent their days volunteering in the community.
"I've always enjoyed service and I felt I could do something useful with my spring break," said Eddy (Charleston, S.C.).
Each day was a new experience for the students as they rotated through different non-profits that needed help. The group requested to work with kids so they spent a lot of time working in after-school programs. They even worked at a farm on the banks of the Mississippi River that teaches at-risk youth to care for rescued horses.
One of the most unusual jobs they had was sorting Mardi Gras beads for resale with adults with intellectual disabilities. The project is part of a program that helps these individuals find work and earn a salary. That way, they can work toward a more independent lifestyle. The work had a light atmosphere with music playing in the background and both groups talking, getting to know each other and having fun.
"One of the guys was really young and excited about everything," said Jordan Brown '16 (Gastonia, N.C.). "He taught some of the girls how to dance."
For Alyssa Gills, inspiration came from an unlikely combination: a youth program that employed ex-cons. The students helped clean up a building that will become the site of an after-school church program. The program will invite people who were recently released from prison to encourage kids not to make the same bad decisions that lead to their incarceration.
"A lot of people would be scared to have ex-prisoners work with kids," said Gills '13 (Hilton Head, S.C.). "But I love the vision and excitement they had for their dream to try to prevent youth from making same decision. I'm so inspired by their dream."
Contact Us
Clinton Colmenares
News & Media Relations Director