News from around the
lake and beyond
Furman News
Sociology professor Aaron Passell writes book on New Urbanism movement
September 17, 2012
by Tina Underwood, Contributing Writer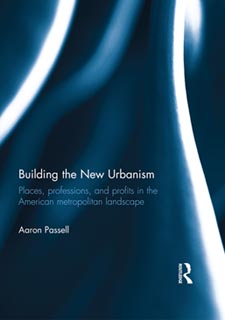 GREENVILLE, S.C.—Furman University sociology professor Aaron Passell has written a book about the New Urbanism movement and its influence on suburban design, planning and development in recent decades.
Building the New Urbanism: Places, Professions, and Profits in the American Metropolitan Landscape is published by Routledge.
Passell's book asks why "New Urbanism now?" and situates the growth of the New Urbanism in the history of urban and suburban policy and development.  It builds an account of the movement's founding and development, linking its progress to the making of new places. The volume also investigates how the movement capitalized upon dynamics within architecture, planning and the homebuying public to recruit support from among those groups.
The book establishes a framework for analyzing the opportunities and constraints that confront efforts to change the way the built environment is produced.  It also reveals how elaborately social the production of that environment is and how specific the material solutions to social conditions must be to resolve this process.
Building the New Urbanism encapsulates and engages the dominant history of American suburbia and brings the work of prominent theorists of culture and science into the investigation. It broadens the focus of urban studies to the metropolitan region and draws on extensive interviews with key figures in the New Urbanism movement. The book targets scholars and students of urban and suburban development, sociology, geography, and planning.
Passell joined the Furman faculty this year. He specializes in the urban and suburban built environments, their development and redevelopment, and associated questions of social equity and environmental impact. His current research concerns urban historic districts and processes of neighborhood change.  A graduate of Wesleyan University, he holds a Ph.D. in sociology from New York University.
More information about Building the New Urbanism can be found here, or contact Aaron Passell at 864-294-2479 or aaron.passell@furman.edu.
Contact Us
Clinton Colmenares
News & Media Relations Director