See the Bee to believe the buzz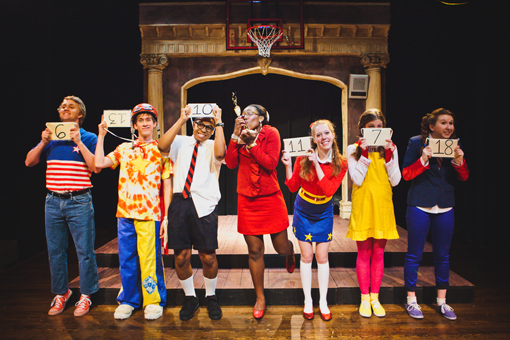 NOVEMBER 1, 2011
By Chloe Kowalski '12, Contributing Writer
Gay marriage, racial stereotypes, gender norms, sex, religion, and even Charlie Sheen are far from off-limits in Furman's rendition of The 25th Annual Putnam County Spelling Bee, which holds nothing back for audience entertainment.
Performing talent shines in an array of colorful costumes, charming chorus lines, and candid characters throughout the play. Even before the show's official start, the audience is enticed to participate in the ultimate spelling competition, where "just being there is winning." Four audience members are chosen to state, spell, and repeat formerly unheard-of words, and are a critical addition to the play's mien. The cast seamlessly pulls their audience-turned-actors along with them through a journey of self-expression and self-actualization.
Nine students comprise the quirky cast. This small bunch proves that eccentricity and individuality go hand-in-hand with group competition. Unlike other spelling bees, Putnam's exudes electrifying high energy through perfectly choreographed dancing and immaculately sung songs. Senior Stephen Howard continuously humors the crowd through his roles as Leaf Coneybear, a special exception to the Bee, and as "Carl Dad," one half of a contestant's male-male parents.
Quality sound and lighting also contribute to the overall enjoyment of the play, making Furman's Playhouse a cozy setting to enjoy the Broadway hit. Audience shock often resulted from the Bee's crude humor, but laughter always settled over the crowd, dissipating any uncomfortable feelings.
Under the direction of Maegan Azar and Marion Sprott, Furman's cast carries its energetic harmony throughout the show. In short, the play deftly humors the crowd through quick wit and clever banter. How could anyone not enjoy Jesus making a grand entrance to Marcy Park's prayers, or a special cameo by a "celebrity" audience contestant each night?
William Finn, who wrote the music and lyrics for the play, would be proud to see the intensity and joy that Furman channels into production. See the celebration of pandemonium for yourself—just make sure you are ready to enjoy two hours of delightful entertainment.
The show will continue to run 8 p.m. Nov. 2-5 at the Playhouse and has a matinee 3 p.m., Nov. 6. Student, faculty, senior, and community ticket prices range from $10-20.
Contact Us
Clinton Colmenares
News & Media Relations Director