Sculptures by Farfán on display in Thompson Gallery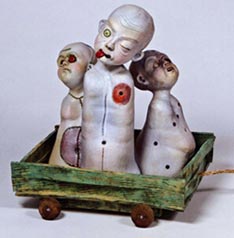 JANUARY 20, 2012
by Tina Underwood, Media Relations
GREENVILLE, S.C.—Sculptures by Diana Farfán are on display now through Feb. 17 in Furman University's Roe Art Building, Thompson Gallery.
The exhibit, "The Toy Republic," is free and open to the public. Through the use of primarily ceramics along with mixed mediums, Farfán's surrealistic forms show the plight of people as they are impacted by societal and class hierarchies.
Born and raised in Bogotá, Colombia, Farfán received her BFA at the National University of Colombia and her MFA in ceramics at the University of South Carolina. Her two- and three-dimensional works have been shown and awarded in a number of exhibitions in places including Colombia, the U.S., and Taiwan. Farfán lives and works in Greenville.
Thompson Gallery hours are 9 a.m. – 5 p.m., Monday through Friday. For more information about the exhibit, contact Debi Jolly in Furman's Department of Art, 864-294-2074, or visit http://dianafarfan.com/.
Contact Us
Clinton Colmenares
News & Media Relations Director