Paintings by Jeff Jensen on display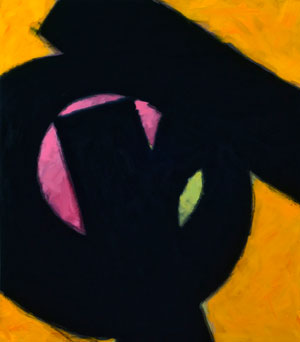 Paintings by Jeff Jensen will be on display Feb. 14 through March 15 at Thompson Gallery in the Roe Art Building on campus. Thompson Gallery hours are 9 a.m. – 5 p.m., Monday through Friday. A reception and gallery talk by Jensen is scheduled for Thursday, Feb. 14 from 6:30 to 8:30 p.m. in the Roe Art Building.
Jensen's exhibition, "experimenting with type," is free and open to the public.
In his large studies, Jensen's goal is to create depth in the counter spaces created by heavy, type-inspired black shapes. Influenced by abstract expressionists of the 40s and 50s, Jensen says his intention is not to have letter forms be recognizable or create sound, but rather be used as a visual vehicle to create space. He seeks to evoke a sense of space and depth by layering marks and color, thereby drawing the viewer into the voids of the compositions.
Jensen is associate professor in the Department of Art at Western Kentucky University in Bowling Green. He holds a bachelor's, a master's and an M.F.A. from the University of Iowa School of Art and Art History.
For more information about the exhibition, contact Furman's Department of Art at 864-294-2074.
Contact Us
Clinton Colmenares
News & Media Relations Director