Princeton Review names four Furman professors among nation's "best"
April 10, 2012
By Erikah Haavie, Media Relations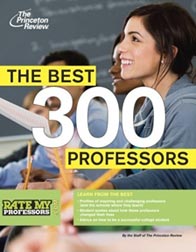 GREENVILLE, S.C. —Furman University is home to four of the country's best undergraduate professors, according to a new book, The Best 300 Professors, published by The Princeton Review.
Furman professors Dr. David Bost (modern languages and literatures), Dr. Charles Brewer (psychology), Dr. Timothy Fehler (history) and Dr. Margaret Oakes (English) were among 300 winners selected from 42,000 of the nation's most beloved professors, representing more than 60 fields from 122 colleges and universities.
The top rankings were based on thousands of student surveys collected by The Princeton Review and RateMyProfessors.com, the highest-trafficked college professor ratings site in the United States.
Here is more information about each of the professors.  For more information, contact Furman's News and Media Relations office at 864-294-3107.
Spanish professor David Bost came to Furman in 1981. He earned a bachelor's degree from the University of North Carolina at Charlotte and master's and doctorate degrees from Vanderbilt University. He is the current faculty chair and administrative director of the Lilly Center for Vocational Reflection. He served as chair of the Department of Modern Languages and Literature from 1997 to 2007.
Psychology professor Charles Brewer received his bachelor's degree in psychology from Hendrix College and his master's and doctorate degrees in experimental psychology from the University of Arkansas. He joined the faculty at Furman in 1967 and served as chair of the Psychology Department from 1972 until 1984. In 2003, the American Psychological Foundation named its teaching award the Charles L. Brewer Distinguished Teaching of Psychology Award to honor his contributions to education in psychology.
History professor Tim Fehler also serves as director of Undergraduate Research and Internships.  He earned his bachelor's degree from Baylor University and his master's and doctorate degrees from the University of Wisconsin at Madison. His scholarly interests include early modern Europe, poverty and social welfare, Germany, the Renaissance and Reformation, and the British Isles.
Margaret J. Oakes is a professor of English and specializes in English Renaissanceliterature, including such authors as George Herbert, William Shakespeareand Margaret Cavendish. Prior to coming to Furman in 1996, she practicedsecurities regulation law in Chicago. She is a graduate of the University ofIllinois (B.A. and J.D.) and earned her doctorate at Stanford University.
Contact Us
Clinton Colmenares
News & Media Relations Director