Thursday nights by the lake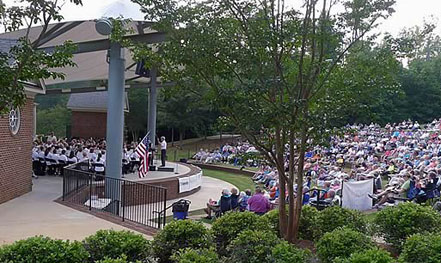 Furman University's Music by the Lake Summer Concert Series, a Greenville tradition since 1968, is currently underway in the university's amphitheater.
Celebrating the "Sounds of Summer," the Lakeside Concert Band, under the direction of Furman's Leslie W. Hicken, and other ensembles and guests will present a concert every Thursday at 7:30 p.m. in the amphitheater (except where noted). The performances are free and open to the public and showcase a cross-section of Big Band, Jazz, Bluegrass, Latin, Contemporary, Marches and Orchestral favorites.
Each Thursday during the series, a concert picnic basket filled with goodies will be given
away.
The concerts are made possible by Furman and are sponsored by the Bank of Travelers Rest, George Coleman Ford (Travelers Rest), Publix Super Markets Charities, The Woodlands at Furman, The Greenville News and greenvilleonline.com.
Go online to www.furmanmusic.org for more information or contact the Furman music office at 864-294-2086. For parking information call 864-294-2111. Bus parking is available. A link to the complete schedule may be found here. A complete schedule also follows:
Furman Music by the Lake
Summer Concert Series 2013
Leslie W. Hicken, Director
Thursdays, 7:30 p.m.
Lakeside Amphitheater
May 23 Spartanburg Jazz Ensemble: Tom Wright, director
May 30 "New York, New York"
Carolina Youth Symphony: Leslie W. Hicken
June 6 "Marches from Around the World"
Lakeside Concert Band: Leslie W. Hicken, director
June 13 Swing Shift Combo: John Hoppe, director
June 20 "Rhapsody in Blue": Derek Parsons, piano soloist
Lakeside Concert Band: Leslie W. Hicken, director
Note: Location will be McAlister Auditorium
June 27 "Above the Fruited Plain" Patriotic Celebration
The Greenville Chorale: Bing Vick, director
Lakeside Concert Band: Leslie W. Hicken, director
—                     No performance July 4th.
July 11 "The Kings of Swing": Bob Chesebro, clarinet soloist
Lakeside Concert Band: Leslie W. Hicken, director
July 18 Bluegrass Night: The Andy Carlson Band
7 p.m. prelude: SC Suzuki Institute Fiddlers, Anna Joiner, institute director
July 25 The Matt Olson Jazz Quartet: Matt Olson, director
August 1 "Circus Days"
Lakeside Concert Band: Leslie W. Hicken, director
Contact Us
Clinton Colmenares
News & Media Relations Director