Mixed media art by Blazina on display in Thompson Gallery through March 23
FEBRUARY 16, 2012
by Tina Underwood, Media Relations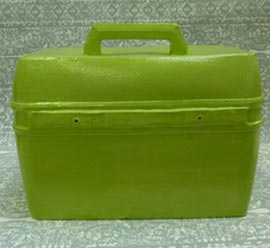 GREENVILLE, S.C.—Mixed media art by Jen Blazina will be on display Feb. 24 through March 23 in Furman University's Roe Art Building, Thompson Gallery.
The exhibit, A Collection, is free and open to the public. Originally inspired by vintage suitcases found in thrift stores, A Collection investigates what is held dear and private to someone as they travel. From fabricating opaque ceramic cases to translucent glass cases, Blazina says the installation has voyeuristic sense leaving the viewer to wonder what is hidden and revealed about someone's life.
Blazina resides and has a studio in Philadelphia where she is a working artist showing in solo and group exhibitions nationally and internationally. She received her M.F.A. in printmaking from Cranbrook Academy of Art, her B.A. from Sarah Lawrence College in New York and her B.F.A., cum laude, from the State University of New York at Purchase College. She is a professor of Fine Arts at Drexel University.
Thompson Gallery hours are 9 a.m. – 5 p.m., Monday through Friday. For more information about the exhibit, contact Debi Jolly in Furman's Department of Art, 864-294-2074, or visit http://jenblazina.com.
Contact Us
Clinton Colmenares
News & Media Relations Director