Loyola professor to speak April 3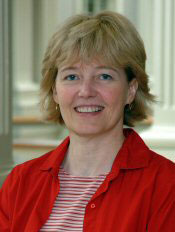 Diana Schaub, professor of political science at Loyola University Maryland and a member of the Hoover Institution's Jill and Boyd Smith Task Force on the Virtues of a Free Society, will speak on the Furman University campus Wednesday, April 3 at 4:30 p.m. in Watkins Room of the Trone Student Center. A reception follows her address.
Her talk, "Tocquevillian Perspectives on Slavery," is free and open to the public. It is sponsored by Furman's political science department and its Tocqueville Lecture Series.
In her lecture, Schaub will explore the thought of both Alexis de Tocqueville and his friend, co-author, and travel partner, Gustave de Beaumont, on the subject of slavery.
Schaub has received the Richard M. Weaver Prize for Scholarly Letters and served as a member of the President's Council on Bioethics. She is the author of Erotic Liberalism: Women and Revolution in Montesquieu's Persian Letters, and co-editor of What So Proudly We Hail: The American Soul in Story, Speech, and Song. Her many articles have appeared in such publications as The New Atlantis, National Affairs, Commentary, First Things, The American Interest, and City Journal. She earned an A.B. from Kenyon College and an M.A. and Ph.D. from the University of Chicago.
For more information about the event, contact Furman's News and Information Office at 864-294-3107.
Contact Us
Clinton Colmenares
News & Media Relations Director