Jeffrey Brown of PBS NewsHour to speak about the public voice in a divided America
SEPTEMBER 19, 2012
by Tina T. Underwood, Contributing Writer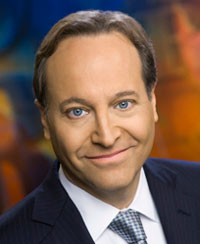 GREENVILLE, S.C.—Jeffrey Brown, co-anchor and senior correspondent for PBS NewsHour, will speak Tuesday, September 25 at 7 p.m. in Younts Conference Center on the Furman University campus.
His talk, "The Public Voice in a Divided America," is free and open to the public. The event is sponsored by the Riley Institute at Furman as part of its Woodrow Wilson Fellow in Residence program.
Brown's talk addresses America's increasingly polarized discourse and the media's role in this divisive climate as Election 2012 approaches. Brown tackles questions about how a preoccupied citizenry is able to get the facts (or not) when different versions of the truth are proffered. The presentation will explore changes in technology and consumer behavior, fractures in the news audience, evolution of media business, and the impact on an informed citizenry.
In a career spanning more than 20 years at PBS NewsHour, Brown has served in a variety of roles both on and off camera. As senior correspondent, he has conducted studio discussions and reported from the field on an array of domestic and international stories and now regularly co-anchors the nightly news program.
As arts correspondent, he has profiled and interviewed many of the world's leading writers, musicians and other artists. As senior producer for national affairs for more than a decade, he helped shape the program's coverage of a range of areas including the economy, health care, social policy, culture and the arts. Brown is the creator and host of "Art Beat," PBS NewsHour's online arts and culture blog. His work as correspondent and producer has garnered an Emmy, five Cine Golden Eagle Awards, and other honors.
Prior to joining PBS NewsHour, Brown helped produce numerous public television series for Media & Society Seminars, an independent production company headed by Fred W. Friendly. He attended UC Berkeley (B.A., Classics), UC Berkeley School of Law, and Columbia University Graduate School of Journalism (M.S.).
For more information about the event, contact Jill Fuson at the Riley Institute at Furman, 864-294-3280, or jill.fuson@furman.edu . More information can also be found at the Riley Institute website, http://riley.furman.edu/.
Contact Us
Clinton Colmenares
News & Media Relations Director