Series on Emancipation Proclamation continues at History Museum Nov. 18
NOVEMBER 12, 2012
by Vince Moore, Director of News and Media Relations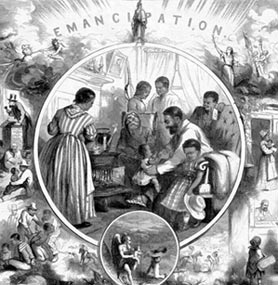 GREENVILLE, S.C.—The Upcountry History Museum/Furman University will host a roundtable discussion featuring some of the country's top historians Sunday, Nov. 18 as part of a continuing series commemorating the 150th anniversary of the Emancipation Proclamation.
"Meanings, Complexities and Legacies of Freedom" will take place from 2-6 p.m. in the Resource Room of the Upcountry History Museum.  It is free and open to the public.
"Freedom Stories: A 150th Anniversary Series" has featured a variety of lectures, workshops and community history projects throughout the school year.  It is sponsored by Furman and the Upcountry History Museum.
The Nov. 18 discussion will be moderated by College of Charleston history professor Bernard Powers.  He will be joined by fellow history scholars Michael West of the College of the Holy Cross, Leslie Schwalm of the University of Iowa, and Michael Fitzgerald of St. Olaf College. A collection of student projects from Furman and other local schools will also be featured at the session.
The preliminary Emancipation Proclamation, which ordered the emancipation of all slaves in the Confederate states, was made in September 1862 with the final document issued by President Abraham Lincoln in January 1863.
The "Freedom Stories" series will conclude on Jan. 22, 2013 when Edward Ayers, president of the University of Richmond, delivers the capstone lecture, "Visualizing Emancipation."  His talk begins at 7 p.m. in the Younts Conference Center at Furman.
The Upcountry History Museum/Furman University is located at 540 Buncombe Street on Heritage Green in downtown Greenville.
All events are free and open to the public. For more information, visit the "Freedom Stories" website, or contact the News and Media Relations office at 864-294-3107 or Lloyd Benson at lloyd.benson@furman.edu.
Contact Us
Clinton Colmenares
News & Media Relations Director