Furman University Theatre to present "The Children's Hour" by Lillian Hellman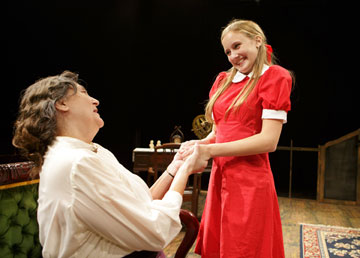 OCTOBER 17, 2012
by Tina Underwood, Contributing Writer
The Furman University Theatre will present "The Children's Hour" by Lillian Hellman Wednesday, Oct. 31 through Saturday, Nov. 3, and Wednesday, Nov. 7 through Saturday, Nov. 10 at 8 p.m. in the Furman Playhouse. A matinee will be performed on Sunday, Nov. 4 at 3 p.m. in the Furman Playhouse.
The production is open to the public. Tickets are $16 general admission, $13 for seniors and $8 for students. Season tickets are also available.
Hellman's "The Children's Hour" deftly considers the suppression of desire and the power of lies when little Mary tells a malicious lie about her teachers. The play was originally seen on Broadway in 1934, filmed with Merle Oberon and Joel McRae in 1936, and again with Audrey Hepburn, Shirley MacLaine, and James Garner in 1961, and most recently rose to acclaim in London with Elizabeth Moss ("Mad Men") and Keira Knightley.
Banned from English stages until 1960, the play is set in a New England school for girls, where a troublemaking student accuses her teachers of illicit passions with explosive results.
"The Children's Hour" is a classic of 20th-century American theatre by a writer who paved the way for Arthur Miller's "The Crucible."
Furman theatre professor Jay Oney directs the play. Scenery and lighting are designed by Alan Bryson, and Gene Funderburk designs sound. Furman senior Caroline Davis is costume designer.
For ticket information and reservations, call the Theatre Box Office at 864-294-2125.
Contact Us
Clinton Colmenares
News & Media Relations Director