Furman professors Malici, Smith co-edit book about political science research
AUGUST 22, 2012
by Tina Underwood, Contributing Writer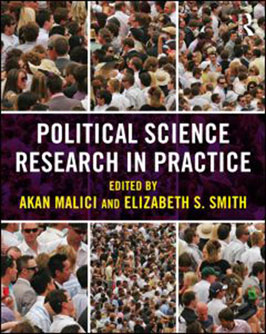 GREENVILLE, S.C.—Furman University political science professors Akan Malici and Elizabeth Smith have co-edited a new book about political science methodology.
Four other Furman political science professors—David Fleming, James Guth, Kate Kaup and Danielle Vinson—also contributed content to the book, Political Science Research in Practice.
Published by Routledge, the aim of the book is to help students appreciate the need for a science of politics, and to foster better understanding of research methods.
In Political Science Research in Practice, Malici and Smith engage students first with pressing political questions, and then demonstrate how a researcher has gone about answering them by walking through actual political science research studies. Through the use of survey research, experiments, field research, case studies, content analysis, interviews, document analysis, statistical research, and formal modeling, each chapter introduces students to a method of empirical inquiry through a specific topic.
Malici joined the Furman faculty in 2005. He holds a Ph.D. from Arizona State University. His research interests include international relations and foreign policy. Smith became a faculty member in 1998. She holds a Ph.D. from the University of Minnesota, and specializes in American politics (public opinion and political socialization).
More information about Political Science Research in Practice can be found here , or contact Akan Malici at 864-294-3576 or akan.malici@furman.edu. Elizabeth Smith can be reached at 864-294-3674 or liz.smith@furman.edu.
Contact Us
Clinton Colmenares
News & Media Relations Director