Furman history professor co-authors book about education reform in El Salvador
MAY 16, 2012
by Tina T. Underwood, Contributing Writer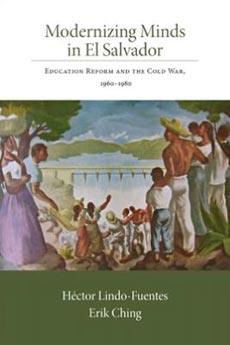 GREENVILLE, S.C. —Furman University history professor Erik Ching has co-written a new book about education reform in El Salvador during the Cold War.  The book is co-written by Fordam University history professor Héctor Lindo-Fuentes.
In Modernizing Minds in El Salvador: Education Reform and the Cold War, 1960-1980, the authors examine the processes by which education reform became entwined in debates over theories of modernization and the politics of anticommunism. Further analysis examines how the movement pushed the country into the type of brutal infighting that was taking place throughout the third world as the U.S. and U.S.S.R. struggled to impose their political philosophies on developing countries.
The book is published by University of New Mexico Press and is part of the Diálogos Series of Latin American Studies.
Ching joined the Furman faculty in 1998 after earning master's and doctorate degrees at the University of California, Santa Barbara.  At Furman, he teaches Modern Latin America, History of Africa, Revolution in Modern Latin America, and Origins of Global Poverty. He also teaches study away programs in Latin America and Africa.
Ching has also co-written Remembering a Massacre in El Salvador: The Insurrection of 1932, Roque Dalton and the Politics of Historical Memory (University of New Mexico Press, 2007), and Reframing Latin America: A Cultural Theory Reading of the Nineteenth and Twentieth Centuries, (University of Texas Press, 2007).
For more information about Modernizing Minds in El Salvador, go to http://www.unmpress.com/, or contact Ching in the Department of History, 864-294-2119, or erik.ching@furman.edu.
Contact Us
Clinton Colmenares
News & Media Relations Director