Furman creates scholarship program
OCTOBER 31, 2012
by Vince Moore, Director of News and Media Relations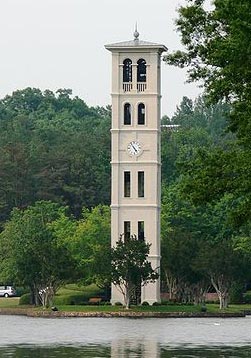 GREENVILLE, S.C.—Furman University has established a new program to award up to 18 $20,000 scholarships each year to qualified students from Greenville County public high schools, part of Furman's continuing effort to encourage talented students in the Upstate to remain in the area as they pursue their educational goals and to strengthen their commitment to the Upstate.
Beginning in the fall of 2013, the university will award the Max Heller Community Scholarship to one student at each of the 15 public high schools (including the Governor's School for the Arts and Humanities) and three charter schools, based on the recommendation of the high school principal, commitment to attending Furman, and evidence of admissibility to Furman's undergraduate program.
The $20,000 scholarship is renewable for four years if the student remains in good academic standing with the university. Students receiving the scholarship are still eligible to apply for Furman's other merit-based financial awards.
Furman also has extended special scholarships to graduates of St. Joseph's Catholic School, similar to the program established at Christ Church Episcopal School last year.
"We want to encourage more of Greenville County's top students to make a commitment to the Upstate and to attend Furman, and we are committed to addressing affordability issues that might otherwise cause our best local students to look elsewhere," said Furman President Rod Smolla.  "These students represent the future of our community, and it is our hope that spending four years at Furman will strengthen their commitment to the region."
According to Brad Pochard, the university's Associate Vice President for Admission, there are no specific academic qualifications associated with the Heller Community Scholarship.
"We are looking for well-rounded students who want to come to Furman and become leaders on campus, students who are passionate about learning and their involvement in the Upstate community," Pochard said.  "The Heller Scholars will need to be competitive in Furman's admissions pool, but we will consider much more than a student's academic credentials.  We want students who are highly recommended by their high school administration, and we look forward to them being committed to making a difference at the university and in the community."
The Heller Community Scholarship is named for the late Max Heller, the former Mayor of Greenville and Furman trustee who was well known for his devotion to and hard work on behalf of the Greenville community.
Students interested in receiving the Heller Community Scholarship should contact the principal at their schools.  The due date for nominations for the 2013-14 academic year is Jan. 15, 2013.
For more information about the scholarship, contact Furman's Office of Admission at 864-294-2034.
Contact Us
Clinton Colmenares
News & Media Relations Director