Sustainability assessment completed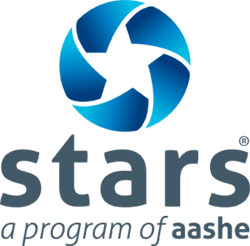 The David E. Shi Center for Sustainability at Furman University has completed a campus-wide sustainability analysis and greenhouse gas report that has resulted in a silver rating for the university.
The Sustainability Tracking, Assessment & Rating SystemTM (STARS) and greenhouse gas report (GHG) are the standard tools colleges and universities employ to measure their comprehensive sustainability performance.
Furman improved its overall performance over past years and scored better than average in three out of five major reporting categories, resulting in a 17 percent improvement over its last measured performance in 2011.
STARS is a transparent, self-reporting scorecard which provides a framework for understanding sustainability in all sectors of higher education. The tool considers specific university practices related to operations, education and research, and planning, administration and engagement.
Furman received a silver rating for its 2013 submission with its greatest performance in the area of sustainability education and research. Only 44 institutions earned the gold rating.
The American College and University Presidents' Climate Commitment is an effort to accelerate progress towards climate neutrality and sustainability by empowering the higher education sector to educate students, create solutions, and provide leadership-by-example for the rest of society. As a signatory to the commitment, Furman is required to publicly release a greenhouse gas report at least every three years.
The 2013 report shows that the university has reduced the direct and indirect emissions it generates by 12 percent compared to the benchmark year 2009. Additionally, its emissions impact per 1,000 square feet of building space is lower than most other reporting baccalaureate colleges.
More information on STARS and GHG, including Furman's reports, can be found online at https://stars.aashe.org/ and http://www.presidentsclimatecommitment.org/. Or contact Yancey Fouché at the David E. Shi Center for Sustainability at 864-294-3656.
Contact Us
Clinton Colmenares
News & Media Relations Director