Furman alum Martin Rooney, professor Tony Caterisano collaborate on new book
JUNE 22, 2012
by Tina Underwood, Contributing Writer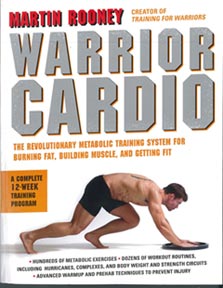 GREENVILLE, S.C.—Martin Rooney, a 1993 Furman University graduate, received assistance from one of his former professors as he was writing his latest book about metabolic training, diet and fitness.
The result is Warrior Cardio: The Revolutionary Metabolic Training System for Burning Fat, Building Muscle, and Getting Fit, Rooney's fifth fitness book.  Furman health sciences professor Tony Caterisano, who has taught at the university since 1984, collaborated with Rooney on selected chapters of the book.
In "Warrior Cardio," Rooney takes a comprehensive look at cardiovascular training using scientifically proven techniques, paired with a diet plan by nutrition expert John Berardi, Ph.D. The book is published by William Morrow Paperbacks.
"Warrior Cardio" includes a 12-week fitness and diet program; hundreds of metabolic exercises with full-color photos; workout routines like hurricanes, complexes, and body weight and strength circuits; advanced warmup and prehab techniques to prevent injury; a diet plan for promoting weight loss and muscle gain; and the latest research on the science behind cardiovascular fitness and training techniques.
Rooney is an internationally recognized fitness, business leadership and martial arts expert with a master's in health science and bachelor's in physical therapy from the Medical University of South Carolina. He also holds a bachelor's in exercise science from Furman.
Rooney was a member of the United States Bobsled team from 1995-1997 and 2000, and a four-time All Conference, and four-time MVP performer in track and field at Furman. Rooney has also presented for numerous companies on leadership and teamwork including Fortune 500 companies such as Marriott International and Hasbro.
"Warrior Cardio" is available online at Amazon.com. For more information about the book, visit http://www.amazon.com.
Contact Us
Clinton Colmenares
News & Media Relations Director