Folk singer songwriter Carrie Newcomer to present workshop, perform concert
SEPTEMBER 19, 2012
by Tina  Underwood, Contributing Writer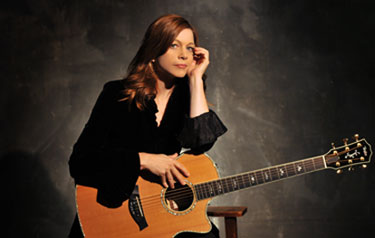 Folk singer songwriter Carrie Newcomer will present a workshop on Monday, Sept. 24 from 4-5:30 p.m. She will also perform a concert on Tuesday, Sept. 25 at 7 p.m. Both events take place in Daniel Chapel on the Furman campus.
The artist-in-residence workshop and concert are free and open to the public, but space for the workshop is limited to 25 participants. Reservations for the workshop are requested by noon on Friday, Sept. 21. The events are sponsored by Furman's Office of the Chaplains as part of the Religion-in-Life series.
Newcomer has been described as a "prairie mystic" by the Boston Globe, and as a consummate voice of the heartland and progressive spirituality. She released her 12th album on Rounder Records in 2009 titled, "Before and After" (featuring Mary Chapin Carpenter on the title track). She has toured with Alison Krauss and Nickel Creek who recorded Newcomer's song, "I Should've Known Better," on the Grammy-winning album, "This Side." Boston's WUMB listed Newcomer as one of the 50 most influential songwriters of the past 50 years, and Chicago WBEZ named her among the most influential folk artists of the last 25 years.
In recent years, Newcomer has served as cultural ambassador and visiting artist to India. She has taught workshops on songwriting and community service, and has met and performed with contemporary, traditional and classical Indian musicians. She also visited with women and children living in slum areas, and performed for audiences in Delhi, Mumbai and Chennai International Schools as part of her work with the American Embassy in India.
Newcomer released her 15th album, "Everything is Everywhere," in 2011 as a special benefit project for the Interfaith Hunger Initiative on the label, Available Light Records. She has also worked and created presentations with beloved authors, scientists and progressive theologians, Barbara Kingsolver, Jill Bolte Taylor, Phillip Gulley, Marcus Borg, Jim Wallis, Brian McLaren and Scott Russell Sanders.
For more information about the workshop and concert, contact Susan Bennett in the Office of the Chaplains, 864-294-2133, or susan.benett@furman.edu.
Contact Us
Clinton Colmenares
News & Media Relations Director