Farewell to the class of 2013!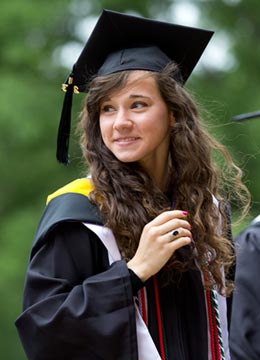 GREENVILLE, S.C.—Furman University awarded 590 undergraduate and master's degrees and presented a number of its top academic honors during graduation exercises Saturday, May 4.
The Scholarship Cup, given to the graduating senior with the highest academic average, was awarded to six students, all of whom had 4.0 averages.
They are Corey Nathaniel Allen of Central (economics and political science); Matthew Daniel Correnti of Springfield, Pa. (chemistry, mathematics and physics); Taylor Nicole Davidson of Anderson (English); Rachel Anne Donaldson of Brentwood, Tenn. (music); Thomas Tyler Hydrick of Columbia (history and political science); and Caroline Elaine Wagner of Ellicott City, Md. (sustainability science and Spanish).
Correnti and Emily Elizabeth Wirzba, a philosophy and political science major from Hillsborough, N.C., received the General Excellence awards, given by the Furman faculty to the outstanding female and male student in the graduating class.
Furman also presented Alester G. Furman, Jr., and Janie Earle Furman awards for meritorious teaching and advising.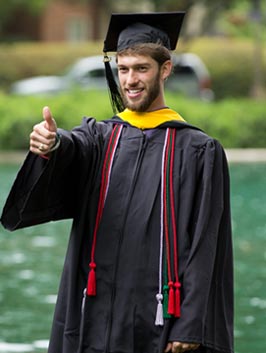 The teaching awards went to Scott Henderson, Professor of Education, and John Shelley, retiring Professor of Religion. The advising awards were presented to Nelly Hecker, Professor of Education, and John Wheeler, Professor of Chemistry.
El Salvador peace activist Sister Peggy O'Neill delivered the commencement address and received an honorary Doctor of Humanities degree.  The student speaker was graduate Jack Farnsworth of Athens, Ga., a mathematics major.
View the Commencement 2013 photo gallery posted on Edge, Furman's digital magazine.
For more information, contact Furman's News and Media Relations office at 864-294-3107.
Contact Us
Clinton Colmenares
News & Media Relations Director