Carroll to speak about homophobia in athletics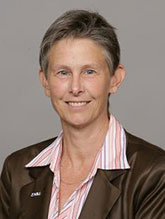 Helen Carroll, Sports Project director for National Center for Lesbian Rights, will speak on the Furman University campus Thursday, April 4 at 7 p.m. in Watkins Room of the Trone Student Center. Former Furman women's basketball player, Ashland Johnson '05, will also offer remarks.
Carroll's talk, "Benched: LGBT Athletes on the Sidelines," is free and open to the public. It is sponsored by Furman's Encouraging Respect of Sexualities (EROS) organization, and is part of Furman's Cultural Life Program.
Carroll joined the NCLR in 2001 to fight homophobia in sports. Previously, she was a National Collegiate Athletic Association (NCAA) athletic director for 12 years. In 1984, Carroll led the University of North Carolina-Asheville to the NAIA women's national basketball championship.
Carroll plays an instrumental role in NCLR's sports law work, offering her expertise in college athletics and the greater sports community. Such cases include negotiating a settlement on behalf of a teacher and basketball coach in Bloomburg, Texas who was terminated because of her sexual orientation. Carroll's expertise in the area of women's collegiate athletics was integral to NCLR's representation of former Penn State women's basketball star Jennifer Harris. Carroll also worked with the University of Florida to create policies and a model training program designed to prevent harassment and discrimination of lesbian, gay, bisexual and transgender (LGBT) students and athletes.
Carroll works closely with national sports organizations including the Women's Sports Foundation and the NCAA. She has participated in panels with the NCAA, the Olympic Committee, Nike, the U.S. Tennis Association, the New York Times, and the San Francisco 49ers, among others. She was featured in Dee Mosbacher's award-winning film, "Out for a Change: Addressing Homophobia in Women's Sports," and in author Pat Griffin's book, Strong Women, Deep Closets.
For more information about the event, contact Furman's News and Information Office at 864-294-3107.
Contact Us
Clinton Colmenares
News & Media Relations Director