Boston College professor speaks March 13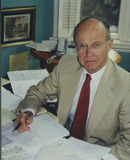 Robert Faulkner, professor of political science at Boston College, will speak on the Furman University campus Wednesday, March 13 at 4:30 p.m. in Watkins Room of the Trone Student Center.
His talk, "Democratic Greatness? Tocqueville on American Ambition," is free and open to the public. It is sponsored by Furman's political science department and its Tocqueville Lecture Series.
Faulkner explores Alexis de Tocqueville's Democracy in America by investigating whether moral grandeur, on the model of Aristotle's great-souled man, is possible in a democratic society.
Faulkner is author of The Case for Greatness: Honorable Ambition and Its Critics, Francis Bacon and the Project of Progress, Richard Hooker and the Politics of a Christian England, and The Jurisprudence of John Marshall. He has also co-edited two books, America at Risk and Marshall's Life of George Washington.
Faulkner was a Marshall Scholar at Oxford and has held fellowships from the Ford, Mellon, Earhart and Bradley foundations and the National Endowment for the Humanities. He holds a bachelor's from Dartmouth College, a master's from Oxford University, and a doctorate from the University of Chicago.
For more information about the event, contact Furman's News and Information Office at 864-294-3107.
Contact Us
Clinton Colmenares
News & Media Relations Director