News from around the
lake and beyond
Furman News
Blumenfield co-edits book about China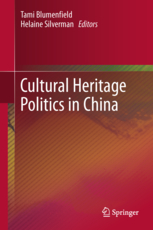 Furman University Asian studies professor Tami Blumenfield has co-edited a book about Chinese cultural heritage politics.
Cultural Heritage Politics in China is co-edited by Helaine Silverman, anthropology professor at the University of Illinois Urbana-Champaign, and director of the Collaborative for Cultural Heritage Management and Policy (CHAMP). The book is published by Springer (N.Y.).
Cultural Heritage Politics in China explores China's cultural heritage ideology and policies from three interrelated perspectives: UNESCO World Heritage tourism; cultural heritage tourism at sites not designated through an international system; and the cultural politics of museums and collections.
Cultural Heritage Politics in China addresses a wide range of cultural heritage issues, providing a valuable mix of interdisciplinary case studies: historic vernacular urban environments, ethnic tourism, scenic tourism, pilgrimage as tourism, museums, border heritage, underwater remains, and the actual governance and management of the site.
The volume draws from an array of contributors including scholars from China, Hong Kong, Australia, Europe, and the United States, who have both scholarly and applied experience in the fields of heritage tourism and museum studies. With its extensive case studies from experienced heritage experts, Cultural Heritage Politics in China provides an introduction to current cultural heritage issues in China and contributes to Chinese studies for those with greater knowledge of the area.
Joining the Furman faculty in 2012, Blumenfield is the James B. Duke Assistant Professor of Asian Studies at Furman. An anthropologist of China and documentary film producer, she has spent more than four years conducting fieldwork in ethnically diverse regions of southwest China. Supported in part by a Fulbright fellowship and a grant from the Association for Asian Studies China and Inner Asia Council, she has researched educational practices, cultural heritage politics, and social change. Blumenfield teaches courses on the anthropology of China, gender in Asia, and media/film/representation. She holds a bachelor's degree from Oberlin College and advanced degrees from University of Washington.
More information about Cultural Heritage Politics in China may be found here. Blumenfield may be reached at 864-294-2810, or at this address tami.blumenfield@furman.edu.
Contact Us
Clinton Colmenares
News & Media Relations Director