Arbor Day Foundation honors university with 2011 Tree Campus USA designation
APRIL 24, 2012
by Tina Underwood, Contributing Writer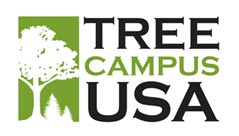 GREENVILLE, S.C.—The Arbor Day Foundation has recognized Furman University as a 2011 Tree Campus USA for its dedication to effective community forestry management. Furman has earned the honor four consecutive years.
To receive the designation, Furman met five required core standards for sustainable campus forestry: a tree advisory committee, a campus tree-care plan, dedicated annual expenditures for its campus tree program, an Arbor Day observance and the sponsorship of student service-learning projects.
Tree Campus USA, a national program launched in 2008 by the Arbor Day Foundation, honors colleges and universities and their leaders for promoting healthy trees and engaging students and staff in the spirit of conservation. Tree Campus USA is supported by a grant from Toyota.
The Arbor Day Foundation is a nonprofit conservation and education organization of one million members, with the mission to inspire people to plant, nurture and celebrate trees.
More information about the Tree Campus USA program is available online, or call the Furman News and Media Relations office at 864-294-3107.
Contact Us
Clinton Colmenares
News & Media Relations Director