A summer with the stars
Through the help of Furman's internship program, junior Caroline Phillips traveled to Los Angeles, California for a summer internship where she brushed shoulders with Hollywood stars Jay Pharoah, Ne-Yo, John Ham, and Ben Affleck.
The business major worked as one of 40 interns for TBS's hit late-night talk show Conan, hosted by stand-up comedian Conan O'Brien.
"At first, I didn't really know what I wanted to do for the summer" she says. "Susan Zeiger (Furman's Internship Program Director), told me that each year for the past few years a student from Furman has interned with Conan, which gave me a little hope when I was applying. Furman Advantage even paid for the majority of my trip."
While working with the show, she saw Conan frequently, but never had "that moment where [she] shook his hand and held a twenty-minute conversation.  He's too busy."
Some of the show's interns were selected to be talent escorts to celebrities for awards shows including the ESPY's, Do Something, and the Teen Choice Awards.
"We just followed the celebs around, made sure they knew where they were going, memorized the venue, things like that."  Phillips escorted Saturday Night Live's Jay Pharoah, and famed R&B singer Ne-Yo.  Other stars she saw included American actor John Hamm, and Ben Affleck, who will play Batman in The Dark Knight trilogy.
She also saw bands perform during the show, like She & Him and Capital Cities, two hit indie groups.
Phillips knowledge of the entertainment world was limited prior to the internship. Conan interns conducted research for the show and covered different staff desks if they were out of the office.  Phillips had the chance to speak with different producers and talent executives about their careers and duties.
Her most memorable experience was the day she was assigned to cover the writing coordinator's desk, which required her to handle the comedy pitches for the show.  "It was the coolest thing ever.  I felt so important.  Covering that desk is what made me consider changing my entire career path to one in the entertainment industry."
As the internship progressed, Phillips says she developed confidence, honed her ability to juggle multiple projects and learned to thrive in a fast-paced office environment.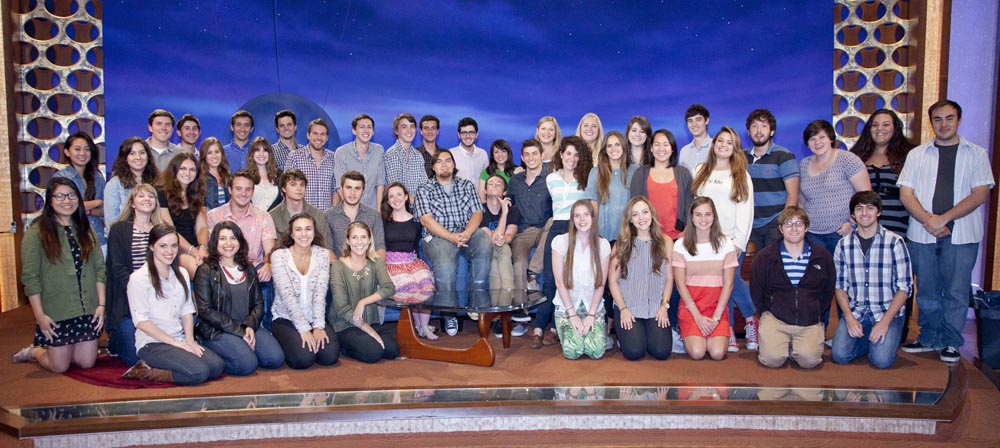 Contact Us
Clinton Colmenares
News & Media Relations Director